IMPORTAPI() Custom Sheets Function
The API Connector add-on for Google Sheets activates a custom function called IMPORTAPI(). This function works similarly to Google Sheets functions like IMPORTDATA(), IMPORTJSON(), etc. It enables you to call your APIs (in JSON, XML, or CSV format) from directly within a Google Sheets cell, instead of the standard method of requesting APIs via the add-on sidebar.
Example using the IMPORTAPI() function with the Genderize API to predict gender for a list of names: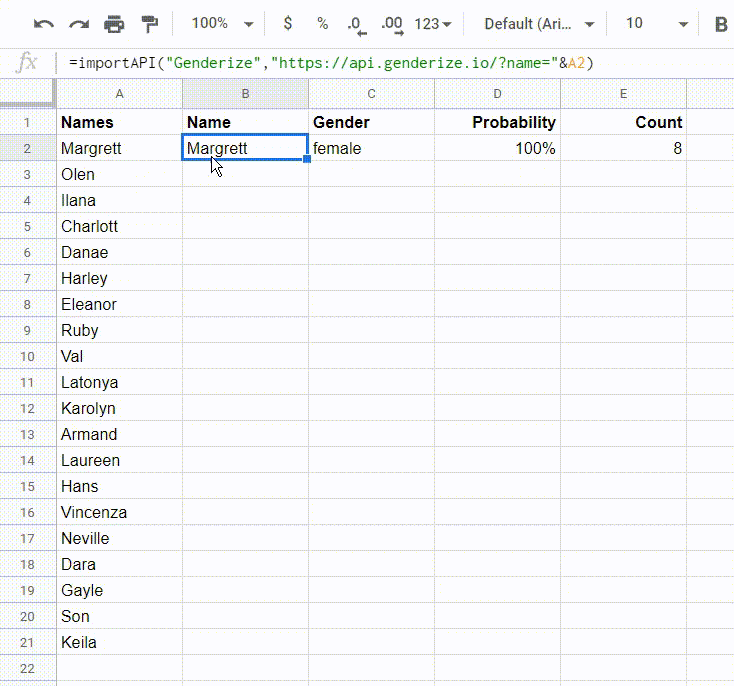 CONTENTS
WHY USE THE IMPORTAPI() FUNCTION?
copy down an API request to run it against a list of input cells,
run requests by changing cells instead of going through the sidebar, and
get a faster potential data refresh rate than you can achieve through scheduling.
Note that you can't use
scheduling
or run
multi-query
requests with the
IMPORTAPI()
function. If you need to schedule or stack requests, please use the standard sidebar method.
IMPORTAPI() SYNTAX
The syntax for this feature is =IMPORTAPI(requestName, url, cell).
requestName Required. Refers to the API request name you've saved within API Connector. By referencing the request name, the IMPORTAPI() function will automatically make an API call that includes that request name's headers, report style, and other saved options.
url Optional. Allows you to specify a request URL. If you don't include this argument in your function, your request will use the request URL from your saved request.
cell Optional. Refers to any cell in your sheet, e.g. $A$1. Google Sheets will refresh data whenever a function changes, so you can force API refreshes by changing the value in $A$1. This needs to be the third argument, so if you apply it without including the optional URL in your function, you should add an empty string into the second position, e.g. =IMPORTAPI("Binance","",$A$1).
BASIC EXAMPLE
If you've saved an API request called Binance, you can now reference this request with the following custom function:
=IMPORTAPI("Binance")
EXAMPLE WITH URL PARAMETER
You can include a request URL parameter, so the request will use this URL instead of the URL in your saved Binance request. All other settings will be retained:
=IMPORTAPI("Binance","https://api.binance.com/api/v1/trades?symbol=BTCUSDT")
EXAMPLE WITH URL PARAMETER AND FAST CELL-BASED REFRESH
This example function will allow you to refresh your data every time the value in cell $A$1 changes.
=IMPORTAPI("Binance","https://api.binance.com/api/v1/trades?symbol=BTCUSDT",$A$1)
Tips for refreshing data
Fast cell-based refresh: Populate cell $A$1 using one of Google's automatically-updating functions, e.g. =GOOGLEFINANCE("CURRENCY:USDEUR"), to force your API request to refresh every time the Google Finance function runs (about every 2 minutes). Just beware of Google's quotas and limits as your data will stop refreshing if you run too many requests. It is highly recommended that you wrap any automatically updating IMPORTAPI() calls in a SWITCH() or IF() statement to prevent excess recalculation (info).
Checkbox-based refresh: Populate cell $A$1 with a checkbox (Insert > Checkbox) so you can update your sheet each time you check or uncheck the box.
These tips for using fast cell-based refresh in your sheet are provided as a convenient, yet hack-y workaround to Google's scheduling limits. They can only be used when your sheet is open, and may not run reliably even then. For critical reports, please use the
standard sidebar method
to construct and schedule your requests.
EXAMPLE REFERENCING A CELL
Referencing a cell enables you to base your API calls on changing URL inputs. For example, you can enter BTCUSDT into cell A1, and then construct your custom function like this:
=IMPORTAPI("Binance","https://api.binance.com/api/v1/trades?symbol="&A1)
Now, every time you edit cell A1 with a new currency pair, your data will automatically refresh.

EXAMPLE REFERENCING MULTIPLE CELLS
Like shown in the first GIF, there are some situations where you may want to "zip" through a list of names or values and perform an API call on each one. Let's use the genderize API as an example:
=IMPORTAPI("Genderize","https://api.genderize.io?name="&A2)
In order to accomplish this stacked API output, you will need to go to Output options and then Output Mode. Choose the Append radio button (this removes the headers).
Setup your API call in the adjacent cell and just drag it down to run it for each respective cell. Bam!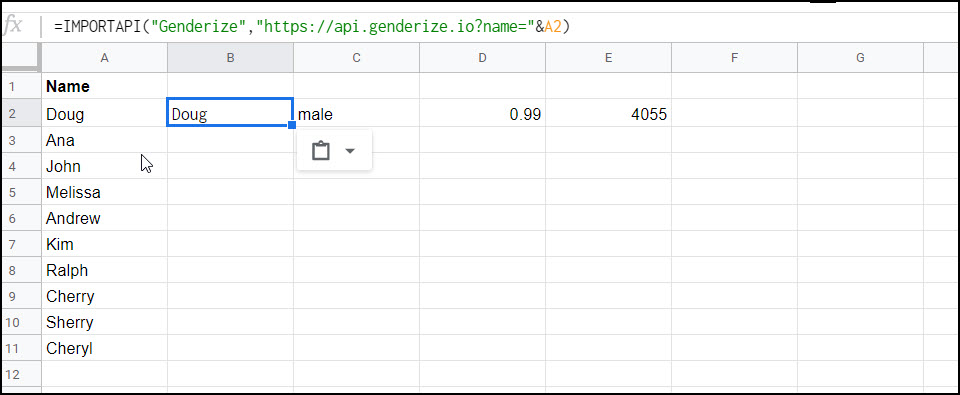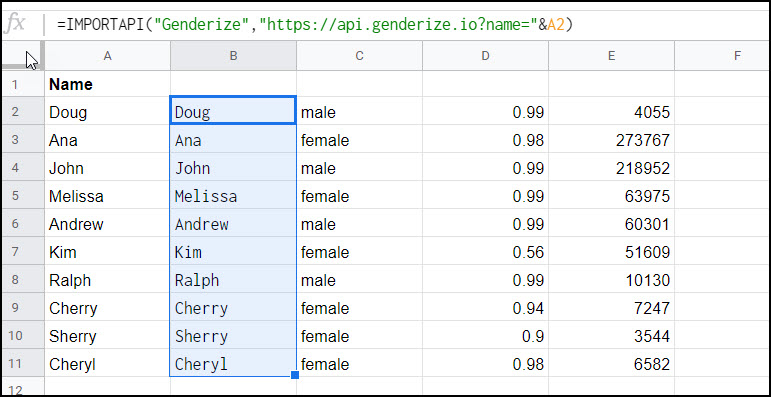 Note that "Append" mode does not return the column names, so you will need to manually enter them yourself.
USAGE NOTES & CAVEATS