Search API Connector Documentation
Import BscScan Data to Google Sheets
In this guide, we'll walk through how to pull data from the BscScan API directly into Google Sheets, using the API Connector add-on for Sheets.
We'll first get an API key from BscScan, and then set up a request to pull in data to your spreadsheet.
Contents
Before You Begin
Click here to install the API Connector add-on from the Google Marketplace.
Part 1: Get Your BscScan API Key
While logged into BscScan, open the Account menu dropdown and click API Keys

In the API Keys menu click Add

Name your API key and click Continue.

You will now see your API key, copy it down and keep it safe as we'll need it shortly.


Part 2: Pull Data from BscScan into Sheets
The easiest way to get started with the BscScan API is through API Connector's built-in integration.
In Sheets, open API Connector and create a new request (Extensions > API Connector > Open > Create request)
Select BscScan from the drop-down list of applications
Choose an endpoint. We'll start with the endpoint for fetching 'normal' transactions.

In the parameters section, enter your API key and the address of interest.
Choose a destination sheet, name your request, and hit Run to see the response data in your sheet.

That's it! If you like, you can double-check that the data in your sheet matches the data you see when you search BscScan's search box by address. It should be exactly the same:

Part 3: Create a Custom API Request
Alternatively, you can run your own custom requests instead of using API Connector's pre-built integration, using any of the URLs shown in the API documentation. Here's an example request configuration:
Application: Custom
Method: GET
Request URL: https://api.bscscan.com/api?module=account&action=txlist&address=0xea0A6E3c511bbD10f4519EcE37Dc24887e11b55d&startblock=0&endblock=99999999&sort=desc&apikey=1111111111
OAuth: None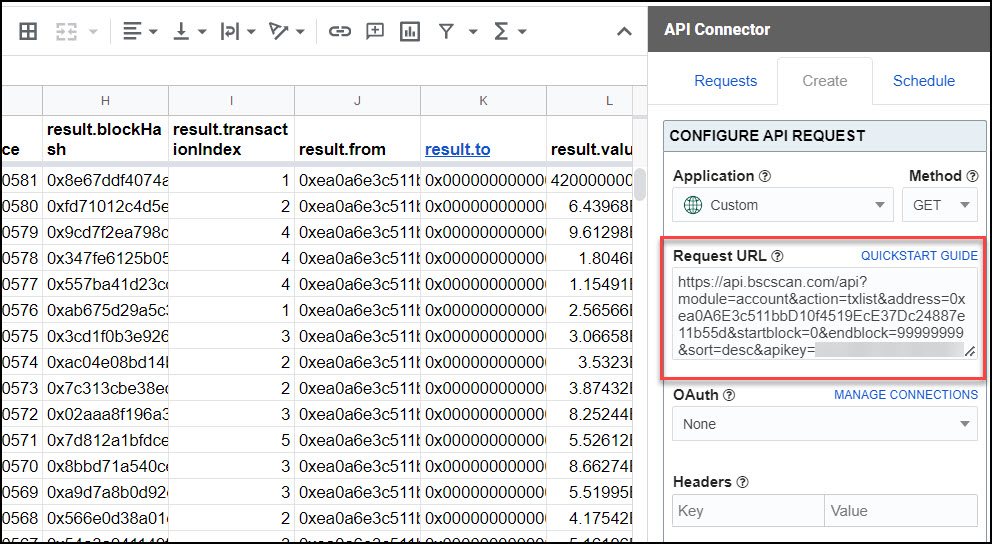 Part 4: API Documentation
Official API documentation: https://docs.bscscan.com/