premium
Contents
Customer Portal
The Stripe-hosted customer portal is available for all users with a paid account. To access, open Google Sheets and navigate to Add-ons > API Connector > Account. Click the Manage Account button to open the portal.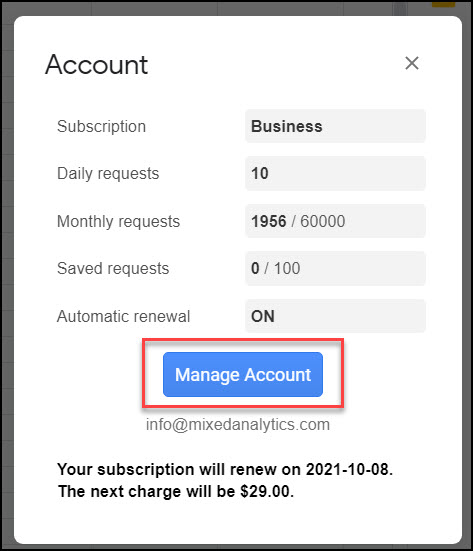 The customer portal enables the following features:
Cancel plan


When you cancel your plan, you won't get billed again, and your subscription will remain active to the end of your billing period.



Upgrade or downgrade subscription

Click "Update plan" to see the list of available plans. When you upgrade or downgrade your plan, the fee will be pro-rated to take into account any amount you have already paid.



Update payment methods




Download past invoices

Click the links under Billing History to download past invoices. Please contact us for invoices prior to May 2021.
Some additional account management features are described below:
Account Transfer
If you would like to switch pro access to a different email account, please fill out this account transfer form.
When you transfer your account, you can continue to access all requests and triggers in your sheet. Saved schedules will also continue running under the new account.
Billing Email Change
If you would like receipts sent to a different email address from your account email, please contact us after completing your purchase, stating both your account email and the billing email.
Team Plan
The Team Plan allows access for additional users on the same domain. To add users to your account, please fill out this team plan access form.