Search API Connector Documentation
Import Nasdaq Data Link Data to Google Sheets
In this guide, we'll walk through a simple but complete example of how to pull data from the Nasdaq Data Link (rebranded from Quandl in Sep. 2021) API directly into Google Sheets, using the API Connector add-on for Sheets.
We'll first get an API key, and then set up a request to pull in some data to your spreadsheet.
Contents
Before You Begin
Click here to install the API Connector add-on from the Google Marketplace.
Part 1: Get Your Nasdaq Data Link API Key
If you haven't already, sign up for an account at https://data.nasdaq.com/sign-up
To find your API key, navigate to your account settings page at https://data.nasdaq.com/account/api.



That's it. You can now access the Nasdaq Data Link API!
Part 2: Search for a Data Set
Nasdaq provides a huge number of data sets. It's a bit overwhelming, so let's start by narrowing it down with a search.
Here I'll navigate to https://data.nasdaq.com/search and search for "Bitcoin" to see what's available. For the purposes of this example, I'm filtering for free data sets.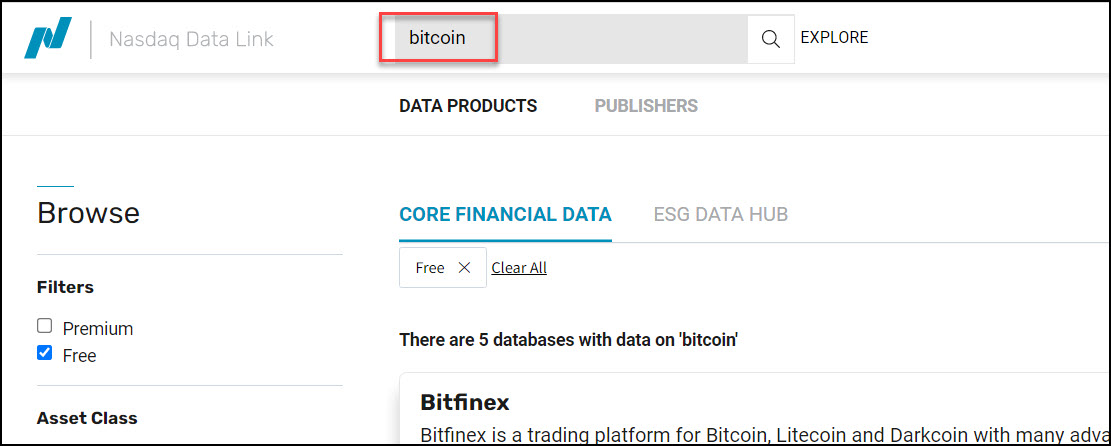 The cool thing about Nasdaq Data Link is they provide a lot of examples to get you started. Here I've clicked into the top result, Bitfinex. Clicking either Usage or Expand will produce some sample API request URLs.

Part 3: Get API URLs
Clicking Expand brings up a screen containing information about the data, including a link to its source, its last refresh data, and the data table. Depending on the data set, you may be able to customize the data table by adjusting parameters above the header row.
On the right-hand sidebar you'll see a section called "API" that contains the request URLs you need to replicate this table in Google Sheets. You can choose any format, but CSV works best in a table, so let's use that.


A modal will appear containing the full API request URL. Convenienently, your API key will be included as well.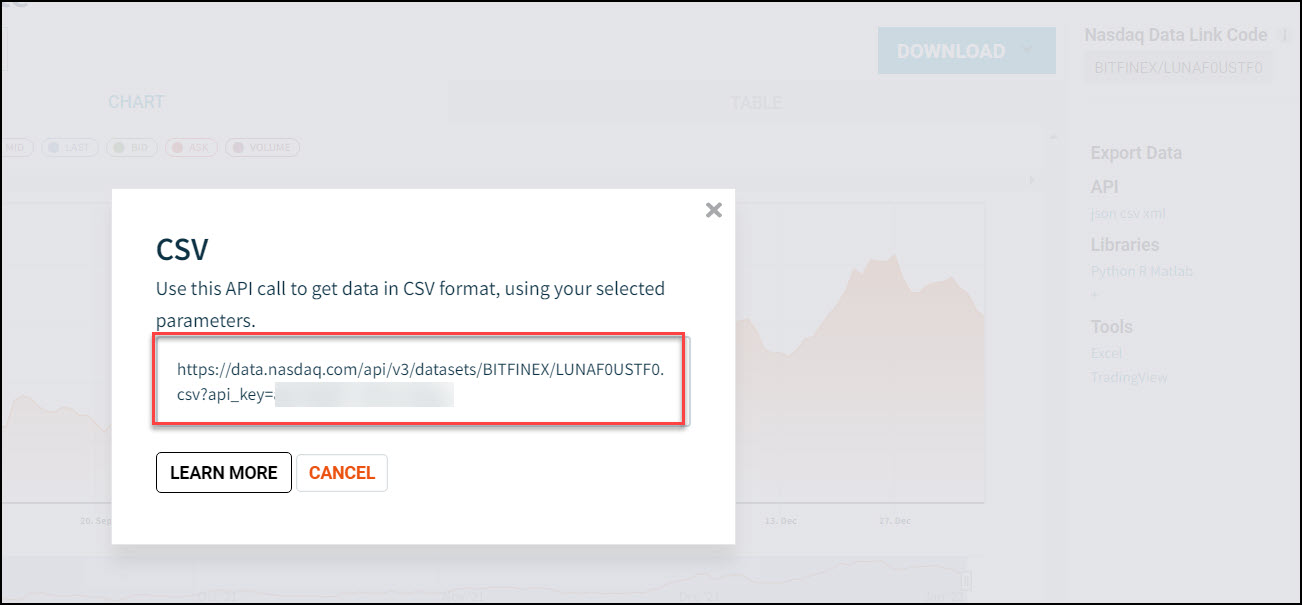 Copy that to your clipboard. We have our first request URL!
https://data.nasdaq.com/api/v3/datasets/BITFINEX/LUNAF0USTF0.csv?api_key=1111111111111111
Part 4: Pull Nasdaq API Data into Google Sheets
Now let's copy and paste that URL into API Connector.
Open up Google Sheets and click Extensions > API Connector > Open.
In the Create tab, enter the API URL we just retrieved.

We don't need OAuth so leave that set to None. We don't need any headers either so just skip that section.
Create a new tab and click Set current to use that tab as your data destination.
Name your request and click Run. A moment later you'll see the table we were just looking at replicated in your sheet.

Part 5: Get More Nasdaq Data
As mentioned above, the Usage tab also contains sample URLs that can be copied and pasted into API Connector: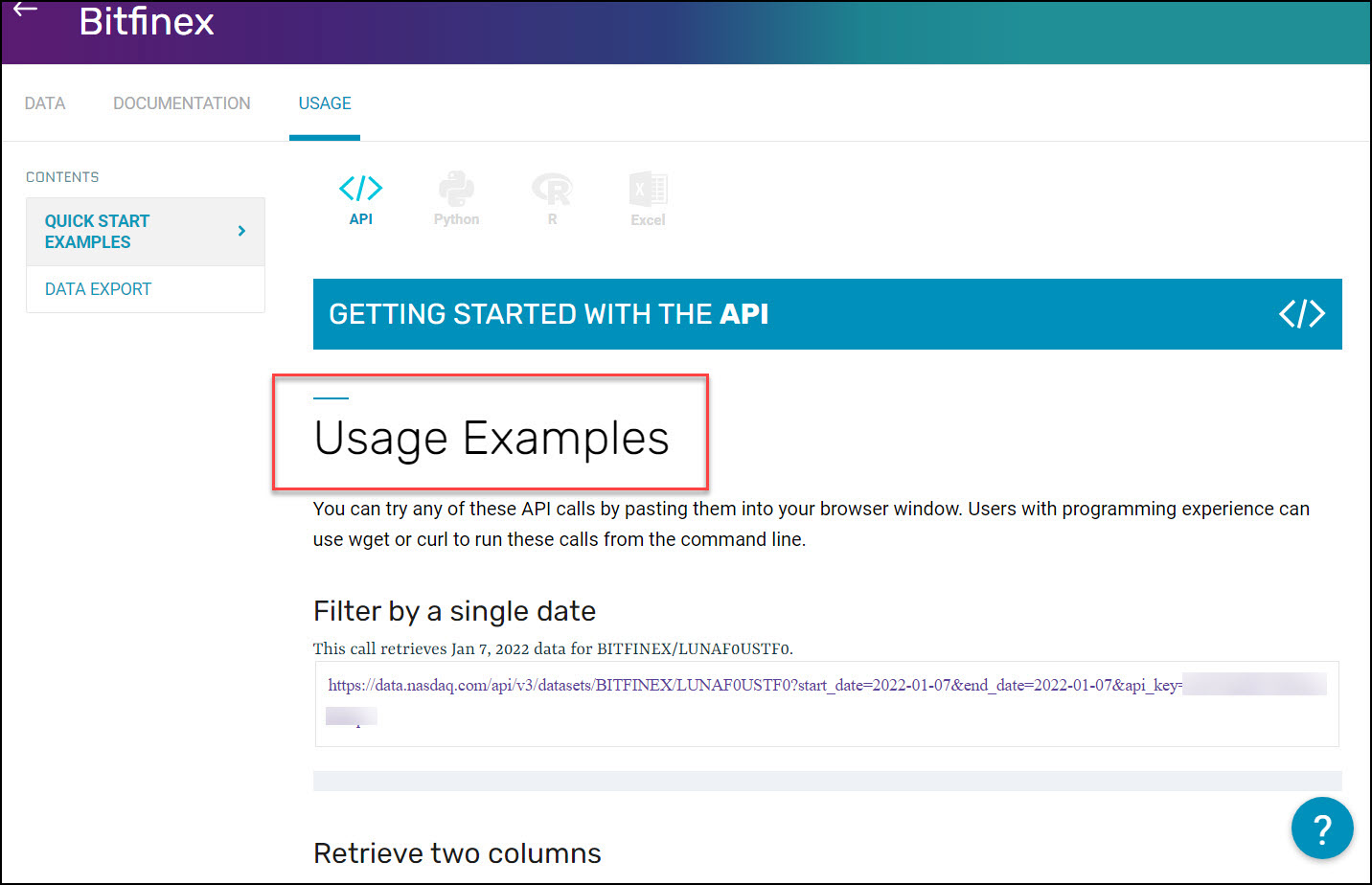 Just plug those in and hit Run to see the data in your sheet.
Hopefully this little introduction has given a sense for what's possible with Nasdaq Data Link. They provide many examples for each data set, so you can usually begin by searching for what interests you, pulling out an example API URL, and then modifying it as desired.
Part 6: API Documentation
Official API documentation: https://docs.data.nasdaq.com/docs/getting-started