Search API Connector Documentation
Connect to a Preset OAuth2 API
premium
API Connector includes many preset OAuth2 connections (see the full list here). For these preset connections, you can securely authenticate yourself by clicking a Connect button rather than retrieving and entering an API key or other credentials.
You may also add your own custom OAuth2 connections for APIs we haven't integrated.
Contents
Before You Begin
Click here to install the API Connector add-on from the Google Marketplace.
What is OAuth 2.0?
Most APIs require some kind of authorization. Frequently this involves entering an API key or token, which function similarly to passwords.
OAuth2 is an authorization framework that lets a user securely connect a third party to their account without manually entering or exposing their credentials.
You've probably encountered OAuth2 before. It's the technology behind most "sign in with X" authorization flows. For example: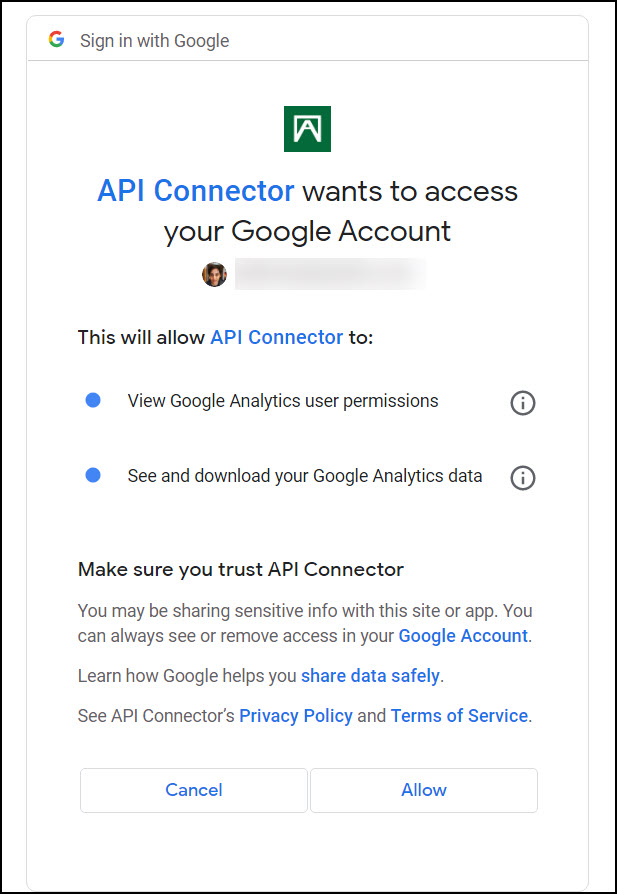 Why Use OAuth 2.0?
some APIs provide access only through OAuth 2.0
connect by clicking a button rather than digging through documentation for API keys
avoid manually managing the process of exchanging & refreshing tokens
connect securely, without needing to enter or share sensitive access credentials.
How to Connect
Whenever you select an OAuth connection, you'll see a blue Connect button. These connections are available in the API library, through your own custom OAuth requests, and in the Manage Connections screen.


Whichever flow you choose, these OAuth buttons will direct you to the target site, where you will be prompted to connect your account.

Once you accept, API Connector will display your connection status and keep you connected.

Now you can enter your request details and choose your connector to make your request:



Notes
When you connect your sheet to an API via OAuth2, only your account can run the queries. If other people have Edit access to your sheet, they can see and edit your requests, but they need to authenticate through their own accounts to run them.
Some APIs provide multiple methods of connecting, e.g. either an API key or OAuth 2.0. If you're using the OAuth 2.0 method, just skip their instructions for adding an API key. You don't need to enter any authentication-related headers if you're using OAuth 2.0.
API Connector only supports one OAuth2 connection per service. For example, you can not authenticate to two different FB Ads Manager accounts at the same time (but there's no problem connecting to multiple client accounts if they're all under the same FB Ads Manager account).