Search API Connector Documentation
Import Quora Ads Data to Google Sheets
premium
In this guide, we'll walk through how to pull Quora ad data directly into Google Sheets, using the API Connector add-on for Sheets.
Contents
Before You Begin
Click here to install the API Connector add-on from the Google Marketplace.
Part 1: Connect to the Quora API
If you haven't connected API Connector to Quora before, you'll first need to initiate the connection as follows:
Open up Google Sheets and click Extensions > API Connector > Manage Connections.
In the list of available connections, find Quora Ads and click Connect.

You will be taken to Quora.com and asked to provide API Connector with read access to your Quora Ads Manager data. Click Accept.

You will now be returned to your Google Sheet, and can verify that your Quora Ads connection is active in the Connections screen.

Part 2: Create Your Quora API Request URL
For our first request, we'll get some statistics about the performance of your Quora Ads data.
API root: https://api.quora.com/ads/v0/
Endpoint: /accounts/YOUR_ACCOUNT_ID
To get your account ID, log in to your account at https://www.quora.com/ads/account and check under your account name in the right-hand corner: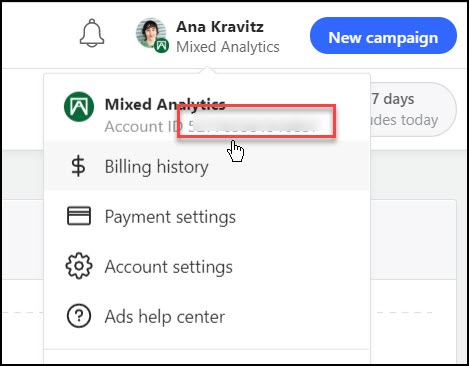 Putting it all together, we get the full API Request URL:
https://api.quora.com/ads/v0/accounts/YOUR_ACCOUNT_ID
Part 3: Pull Quora API Data into Sheets
Now let's plug that into API Connector.
Back in the Create Request interface, enter the Request URL we just created above.

Under Authentication, choose "Quora Ads" from the drop-down menu. You should see a "Connected" badge.

We don't need any headers for this request, so just leave that section blank.
Create a new tab and click Set current to use that tab as your data destination.
Name your request and click Run. A moment later you'll see statistics about your Quora Ads populate your Google Sheets.

Part 4: More Example API URLs
You can experiment with endpoints and query strings as described in the Quora API documentation to see other types of ad data, but if you just want to jump in, play around with the URLs you enter in the API URL path field. Try the following (one at a time), substituting in actual values where indicated.
These sample URLs can also be accessed via the API library (just search for "Quora Ads" within API Connector).
https://api.quora.com/ads/v0/me
https://api.quora.com/ads/v0/accounts/$YOUR_ACCOUNT_ID?fields=campaignId,conversions,conversionRate,clicks,spend,accountCurrency,dailyBudget,lifetimeBudget&level=CAMPAIGN&order=DESCENDING&presetTimeRange=YESTERDAY&sort=conversions&sortConversionType=Generic&summary
https://api.quora.com/ads/v0/campaigns/$YOUR_CAMPAIGN_ID?attributionWindows=CLICK_28_DAY&endDate=2020-07-02&fields=conversions,clicks,cpc&granularity=DAY&sort=spend&sortConversionType=Generic&startDate=2020-05-01&summary
https://api.quora.com/ads/v0/ad-sets/$YOUR_ADSET_ID?startDate=2020-05-01&endDate=2020-07-31&fields=adSetName,ctr,impressions,status,bidAmount,landingURL&level=AD
https://api.quora.com/ads/v0/ads/$YOUR_AD_ID?endDate=2020-05-03&fields=clicks,spend&granularity=DAY&sort=spend&startDate=2020-05-02
Get the recent leads collected for a lead gen form
https://api.quora.com/ads/v0/account/YOUR_ACCOUNT_ID/recent-leads
Part 5: Handle Pagination
Note that Quora Ads limits the number of records returned in each request. By default, only 25 records will be returned unless you follow the paging links to subsequent records as described in their documentation.

To retrieve more than 25 records, you would run your second request using the next page link returned in the response under the field header paging.next. With API Connector, you can loop through these requests automatically with pagination handling, like this:
Pagination: next page URL
Next page path: paging.next
Run until: choose when to stop fetching data

Part 6: Handle Quora Timestamps
For a few endpoints, Quora responds with UNIX timestamps, for example the creation_time field returned by the /recent-leads endpoint.
To convert these timestamps to a human-readable date, you can use the following formula (assuming their UNIX timestamps are in column D). It's an array formula so you just need to enter it once to apply to the whole column.
=arrayformula(((D1:D)/86400)/1000000+date(1970,1,1))
Part 7: API Documentation
Official API documentation: https://www.quora.com/ads/api9169a6d6e9b42452d500a61717d87d15d5fa49ec5b53030741178130#section/Overview