Search API Connector Documentation
Import AccuWeather Data to Google Sheets
In this guide, we will walk through how to pull data from the AccuWeather API directly into Google Sheets, using the API Connector add-on for Sheets.
We will first get an API key from AccuWeather and then set up a request to pull in data to your spreadsheet.
Contents
Before You Begin
Click here to install the API Connector add-on from the Google Marketplace.
Part 1: Get Your AccuWeather API Key
Before we start pulling data from AccuWeather API, we need to register on their site, choose a subscription plan, and obtain our personal API key.
Go to developer.accuweather.com/apis and click on the Register button in the upper right corner.
You will see a modal asking you to enter your name and email address and accept their terms and conditions.
After that step, you will receive an email with a confirmation link, click on it.
Next, click on the Packages & Pricing section to choose your subscription plan. If you wish to get started for free, click on Get started now under the Limited Trial section.

To get an API key, create an application. Click on My Apps, and then +Add a new App

Create a new app as shown in the example below.

Go to the My Apps section, click on the created application and your API key will appear below, as depicted in the picture. Keep this key handy as we'll use it shortly.

Part 2: Pull Data from AccuWeather to Sheets
The easiest way to get started with the AccuWeather API is through API Connector's built-in integration.
In Sheets, open API Connector and create a new request (Extensions > API Connector > Open > Create request)
Select Accuweather from the drop-down list of applications
Choose an endpoint. We'll start by searching locations by name.

Enter your API key and location name

Click Run and you'll see response data in your sheet. Pay attention to the Key field as this will provide the location key that you'll use in subsequent requests.

Now select any other endpoint of interest and subtitute in the key you just retrieved. You can pull in weather forecasts and other data points.

Part 3: Create a Custom Request
Alternatively, you can run your own custom requests instead of using API Connector's pre-built integration, using any of the request URLs shown in Accuweather's API documentation. Here's an example of how to set up a custom request to retrieve a 5 day forecast, just substitute in your own desired location ID where it says 4-315078_1_AL (get your location ID from their Locations API).
Application: Custom
Method: GET
Request URL: http://dataservice.accuweather.com/forecasts/v1/daily/5day/4-315078_1_AL?apikey=11111111111
OAuth: None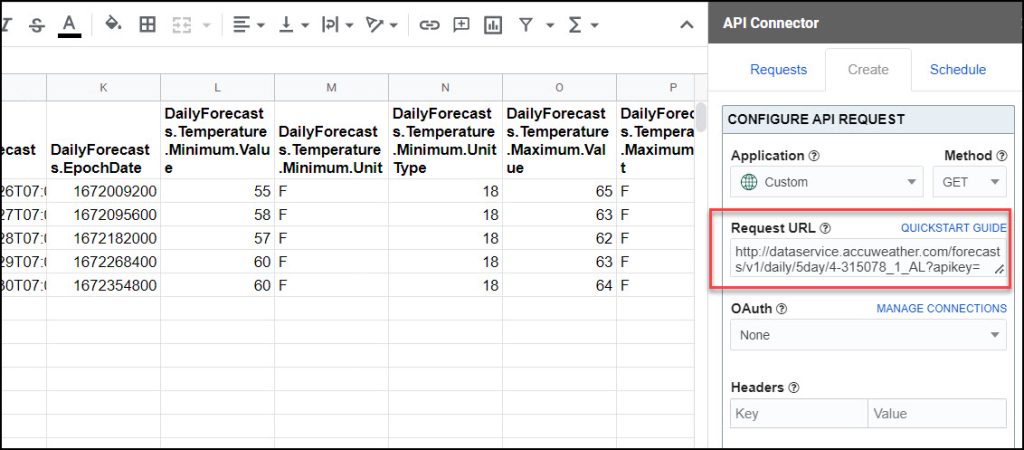 Part 4: API Documentation
Official API documentation: https://developer.accuweather.com/apis