Quick Start
For this quick start, we'll walk through how to use the API Connector for Google Sheets, using an example request from the Financial Modeling Prep stock & finance API.
SUPER QUICK START>>To get started immediately, just enter the following example URL into the API URL Path, set an output sheet and click Run:
https://financialmodelingprep.com/api/v3/financials/income-statement/GOOG
That's it! But if you'd like more detail, read on for step by step instructions.
STEP BY STEP QUICK START
STEP 1: ADD NEW API REQUEST
After installing the plugin in Google Sheets, click Add-ons > API Connector > Create New API Request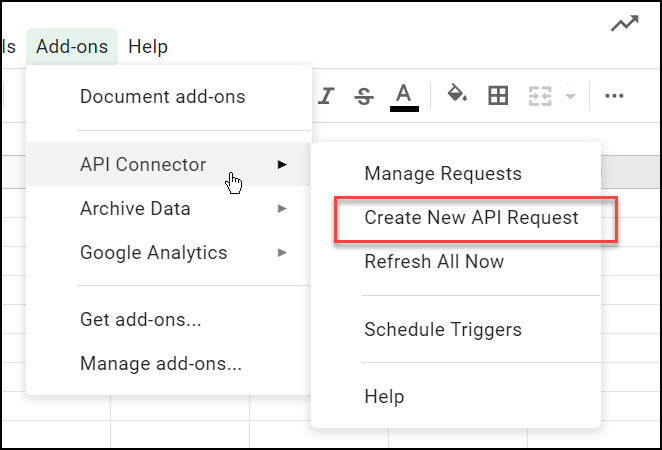 STEP 2: CONFIGURE YOUR API REQUEST
A window will open on the right side of your browser. Under API URL path, enter the following API URL:
https://financialmodelingprep.com/api/v3/financials/income-statement/GOOG
This is an open, public API so we don't need to add any headers. Just leave that section blank.
STEP 3: CHOOSE DESTINATION TAB
Create a new tab. You can name it anything but here we'll call it "Finance". Click 'Set' to set this as the data destination.
Note that the tab must exist before you can choose it as a destination; if you type in a sheet name that doesn't exist yet, you'll receive an error message prompting you to retry.
STEP 4: NAME AND RUN
Again we'll name the request "Finance". Click Run.
STEP 5: VIEW THE OUTPUT
Following the above steps, you should now be able to see Google's financial data from the Financial Modeling Prep API in your own sheet.
STEP 6: CUSTOMIZE YOUR REQUEST
Now, go forth and enter in your own API requests! Experiment with your own API URLs (this beginner-friendly list of open APIs is a good place to start), or follow the documentation to:
API CONNECTOR DEMO VIDEO
Check this video for an API Connector quick start in video form:

If you still have questions, please leave a comment in the new API Connector user community. You'll receive a response shortly!