Search API Connector Documentation
You may encounter the following error messages while using the API Connector add-on for Google Sheets:
Certain error messages are associated only with the custom ImportAPI function. For information on errors encountered while using ImportAPI, please check the "Error Messages" section of
this article
instead.
Error Messages
Bad Request Error 400
This error occurs when logging into a Google service (e.g. Google Analytics, Google Ads, etc.) that is different from the Google account you're using with Google Sheets.

Unfortunately there is a long-standing bug on Google's side related to signing in with multiple Google accounts at the same time (info). Currently the only solution is to use the same account with Google Sheets that you are using with your Google service. Please contact us if you would like to transfer your Mixed Analytics account to a different email address.
Error: Count of request URLs should match count of request bodies
When running a multi-query request with both multiple request URLs and multiple request bodies, the counts must match, e.g. if you have 3 request URLs, you must have 3 request bodies.
Error: Please enter destination sheet
You'll see this error if you run your request without a destination sheet. To resolve, set a destination sheet in your request before clicking Run.
Error: Please enter API URL path
All custom API requests must contain a request URL. This URL should consist of at least a domain name and endpoint, e.g. www.apisite.com/v1/data. Optionally, it can also contain query strings, e.g. www.apisite.com/v1/data?query=A&query=B.
Failed to run request
This error indicates that the request is unable to complete successfully, but neither the API nor Google returned any specific information about the cause of the problem. The primary known cause of this error is a request that takes too long to complete and therefore hits Google's 6 min/request processing limits as described here.
To address, try any or all of the following:
limit the size of your request. Most APIs let you limit request size via date- or ID-based query strings. You can usually use these query strings to fetch new data only instead of re-fetching an entire data set.
switch to 'compact' or 'grid' report style. The algorithm for the default single-row output takes a little longer to run, since it needs to process and flatten all the nested data into a single row.
if you are using pagination handling, set the request to stop running once a page count has been reached or a specific field is empty. Running pagination until no data is returned may cause some requests to time out.
use the field editor or JMESPath filters to reduce the number of fields printed into your sheet.
processing time may increase if your sheet contains a lot of formulas that update as the API request changes cell values. Therefore, running your requests in a fresh new sheet may help.
Failed to save request as the name already exists
All API requests must have a unique name. If you re-use a name that already exists, the request will not save. To resolve, change the request name and retry.
Limit Exceeded: URLFetch URL Length
API Request URLs can not be longer than 2048 characters (info).
As a workaround you can use a URL shortener tool, e.g. https://tinyurl.com/
Request failed: Access not granted or expired.
This error occurs when you use the OAuth 2.0 connection feature of API Connector. It means your connection hasn't been activated, or access has expired. To resolve, navigate to the Connections screen and make sure your OAuth 2.0 connection is active. If you are not using a preset OAuth 2.0 connection, make sure you've selected Authentication = None.
Request failed: Attribute provided with invalid value: Header:HeaderKey
This means you've entered an invalid header key. Please check your API documentation and make sure you've entered the header key exactly as written; e.g. if the header key is api-key make sure you haven't entered apikey.
Request failed: Bad request
This means the API URL hostname is malformed. A request like http://87000 would trigger this error. Make sure you've entered a valid API URL, including a full hostname.
Request failed: Data storage error
This is an occasional, temporary bug on Google's side related to the getProperty() method for saving triggers and requests. Bug reports have been filed and acknowledged.
If you receive this error, please wait and try your request again later.
Request failed: DNS error
This means the server you're trying to reach doesn't exist or isn't responding. Check if your server has reported any outages. If not, double-check your request URL and run again.
Request failed: Invalid POST body data
This error occurs when your request body is incorrectly formatted, e.g. with extra line breaks. Ensure your request body is valid JSON.
To automatically check for invalid JSON, you can run your request body through a parser like https://jsonlint.com/.
Request failed: Server response not in JSON, XML, or CSV format
This error occurs when the server responds with data in an unsupported format, e.g. an image or a boolean. One common cause of this error is a request containing an invalid JMESPath expression.
Request failed: This action would increase the number of cells in the workbook above the limit of 10000000 cells.
Google Sheets permits a maximum of 10 million cells (source) per sheet, including empty cells. Therefore, you will see this error message from Google if your request would cause your sheet to surpass the limit. To address, try any or all of the following:
Run your request in a fresh new sheet
Split your requests into separate worksheets
Delete any unused tabs, rows, and columns from your worksheet
Limit the size of the data response you're requesting
Use the field editor or JMESPath filters to print out fewer fields
Change the report style to compact or grid as these styles generally occupy fewer columns.
Request failed: Your input contains more than the maximum of 50000 characters in a single cell
This error occurs when the data response includes a field that contains more than 50k characters. This occasionally occurs when pulling from APIs containing text fields with a lot of content.
Request processed, no records found
This means there are no records to display. If you were expecting data in the response, check the following:
make sure you've entered the correct API request URL
remove or edit query strings that could be filtering the results, such as dates and IDs
remove any JMESPath expressions as they could be filtering out your results.
Service invoked too many times for one day: urlfetch
This error message comes from Google itself. It is often, but not necessarily, associated with the IMPORTAPI custom function, as IMPORTAPI enables large volumes of API calls. Google has quotas on its usage, as described here: https://developers.google.com/apps-script/guides/services/quotas. A URL Fetch call is a request to get a URL, so one API request is one URL fetch call, and URL Fetch calls are limited to 20,000/day for consumer accounts.
Please note that Google applies this limit to each individual account (each email address), and sums together all the fetch calls from all the sheets you're using. This includes all scripts, functions, and other add-ons that you may be running in addition to API Connector. Unfortunately Google doesn't provide any breakdown of where URL fetch calls come from, or any indicator of how close you are to the limit, so you will need to review your sheets manually for excess URL fetch calls.
Pay special attention to functions like IMPORTJSON, GOOGLEFINANCE, and API Connector's IMPORTAPI as these may produce URL fetch calls every minute. Please check this article for information on preventing excess recalculation.
We received an error from xyz.com (###)
This error message occurs when the API you're trying to connect to refuses to run your request and has returned an HTTP Response Status error code.
First, click "show response" to see the exact error message returned by the server. This will often alert you to the specific nature of the problem.


Since these errors come from the application's server, not from API Connector, you may need to check their API documentation to resolve the issue. You can also look up the HTTP error code displayed within the parentheses. This site contains brief explanations for all error codes: https://httpstatuses.com.
We received an error from googleapis.com (403) - Request had insufficient authentication scopes
This error is a specific case of the more general "We received an error" error message above. This error occurs when the connector's OAuth service has not been fully authorized for Google Ads, Google Analytics, or other Google services.
To resolve, disconnect and then reconnect the Google application, making sure to enable any permissions requested during the authorization process.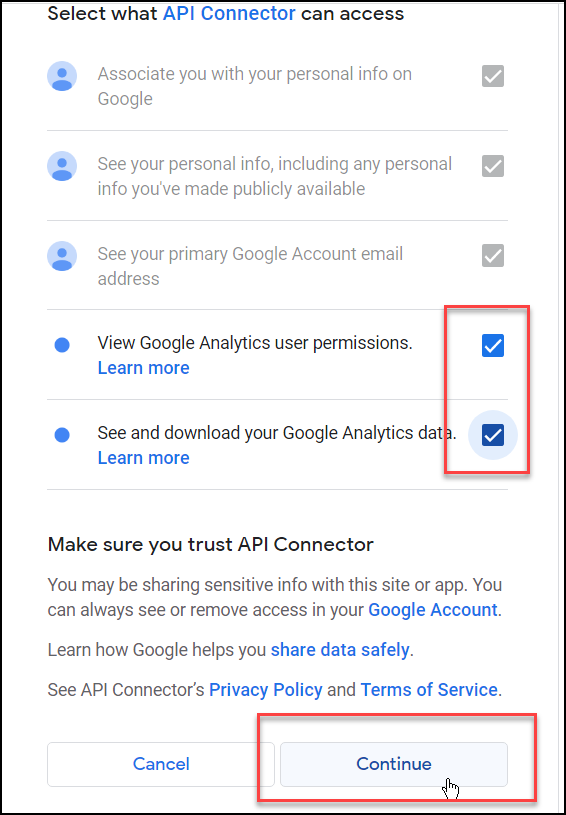 Other
In some cases, API platforms will accept a request but return an error message containing additional requirements or information as their response. In those cases, their custom error message will be displayed in the output sheet.