Search API Connector Documentation
Import MapBox Data to Google Sheets
MapBox provides four different services: Maps, Navigation, Search, and Accounts. All services are accessed in a similar way, but this tutorial focuses on the Mapbox Navigation API. It shows how to fetch data directly into Google Sheets using the API Connector add-on for Sheets.
Contents
Before You Begin
Click here to install the API Connector add-on from the Google Marketplace.
Part 1: Get Your Mapbox API Token
The MapBox Navigation service contains a directions API that shows you how to reach your destination. Although this API is made to pull a route on the map, a route can be pulled into Google Sheets containing the coordinates. This API can be used for calculation of optimal routes for driving, walking, and cycling, as well as turn-by-turn instructions.
If you haven't already, register an account on the MapBox site. After email confirmation, you will be directed to this page which contains a default public token. Create a new private token by clicking Create a token.

Name your token and select the scopes for which you'd like access, and then save it.

You'll now see your token; copy it as we'll use it shortly.

Part 2: Pull Mapbox API Data into Google Sheets
For this example, we'll find a cycling route between two points (-122.42, 37.78) and (-77.03, 38.91). Enter your token where it reads your_token.
Open up Google Sheets and click Extensions > API Connector > Open > Create request.
In the request form enter the following:

Application: Custom
Method: GET
Request URL: https://api.mapbox.com/directions/v5/mapbox/cycling/-122.42,37.78;-77.03,38.91?access_token=your_token

Create a new tab and click Set current to use that tab as your data destination.
Name your request and click Run. A moment later you'll see data populate your sheet.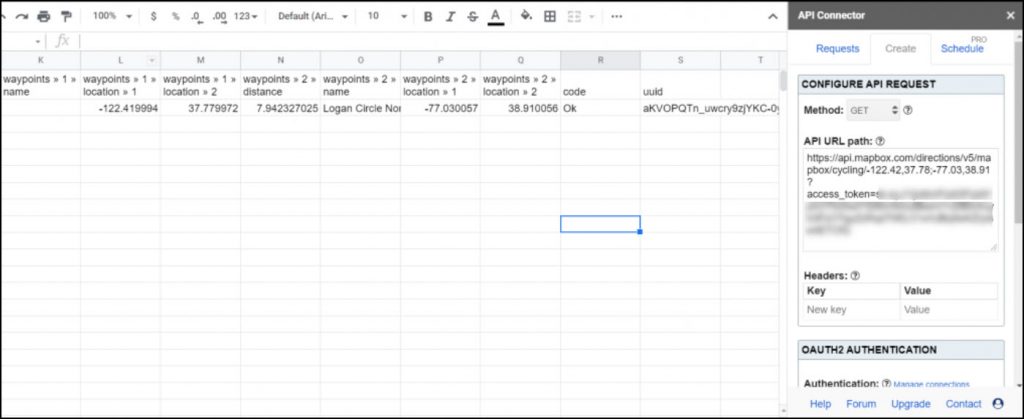 Part 3: More Example URLs
The documentation contains the full array of available endpoints and parameters, but check the examples below to get started.
Request to access speed limit information using the max speed annotation between 3 passed pair of coordinates using the driving profile:
https://api.mapbox.com/directions/v5/mapbox/driving/-122.39636,37.79129;-122.39732,37.79283;-122.39606,37.79349?annotations=maxspeed&overview=full&geometries=geojson&access_token=YOUR-API-TOKEN
Request a walking route between two locations:
https://api.mapbox.com/directions/v5/mapbox/walking/-122.42,37.78;-122.92,37.18?access_token=YOUR-API-TOKEN
Request directions with radiuses and a polyline response through multiple waypoints:
https://api.mapbox.com/directions/v5/mapbox/driving/13.43,52.51;13.42,52.5;13.41,52.5?radiuses=40;;100&geometries=polyline6&access_token=YOUR-API-TOKEN
Request a route that approaches the destination on the curb of the driving side:
https://api.mapbox.com/directions/v5/mapbox/driving/13.43,52.51;13.43,52.5?approaches=unrestricted;curb&access_token=YOUR-API-TOKEN
Specify a departure time:
https://api.mapbox.com/directions/v5/mapbox/driving/-122.396112,37.791399;-122.433904,37.757812?access_token=YOUR-API-TOKEN&depart_at=2021-05-05T15:00
https://api.mapbox.com/directions/v5/mapbox/driving/13.43,52.51;13.42,52.5;13.43,52.5?waypoints=0;2&access_token=YOUR-API-TOKEN
Part 4: API Documentation
Official API documentation: https://docs.mapbox.com/api/navigation/directions/