Search API Connector Documentation
Import CryptoCompare Data to Google Sheets
In this guide, we'll walk through how to pull cryptocurrency data from the CryptoCompare API directly into Google Sheets, using the API Connector add-on for Sheets.
Personally, this is my favorite crypto API due to their generous limits, wide range of available data, and excellent documentation (including an API request builder tool).
We'll first get an API key from CryptoCompare, and then set up a request to pull in cryptocurrency exchange rate details to your spreadsheet.
Contents
Before You Begin
Click here to install the API Connector add-on from the Google Marketplace.
Part 1: Get Your CryptoCompare API Key
If you haven't already, navigate to https://min-api.cryptocompare.com/pricing and click Get your free key.

Fill out your details and click Sign Up
A moment later you'll receive an email. Click on the email to verify your account, and you'll land on your new CryptoCurrency dashboard. Click https://www.cryptocompare.com/cryptopian/api-keys to access the API key section of your account.
Click Create an API key

Give your API key a name, it can be anything but here we'll call it 'Crypto for Google Sheets'. Select the permissions you'd like, and click Add.

You'll now see your API key. Congrats, you now have access to the CryptoCompare API! Copy this and keep it handy, we'll need it in a moment.

Part 2: Pull Data from CryptoCompare to Sheets
The easiest way to get started with the CryptoCompare API is through API Connector's built-in integration.
In Sheets, open API Connector and create a new request (Extensions > API Connector > Open > Create request)
Select CryptoCompare from the drop-down list of applications

Under Authorization, enter your API key preceded by the word Apikey.

Choose an endpoint. We'll start with /data/top/mktcapfull, which is the endpoint for fetching top coins by market cap.

This endpoint requires the tsym parameter, which is the currency symbol to convert into. We'll choose USD for this example.
Choose a destination sheet, name your request, and hit Run to see the response data in your sheet.

Part 3: Create a Custom Request
Alternatively, you can run your own custom requests instead of using API Connector's pre-built integration, using any of the parameters and endpoints shown in their API documentation. Here's how to set it up:
Application: Custom
Method: GET
Request URL: https://min-api.cryptocompare.com/data/top/mktcapfull?tsym=USD
Headers:

Authorization: Apikey your_api_key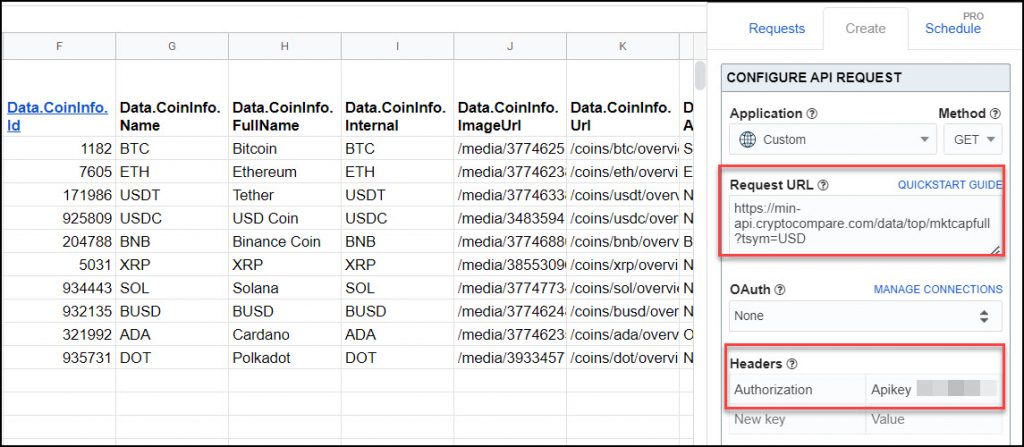 Part 4: Handle CryptoCompare Timestamps
For most endpoints, CryptoCompare returns dates as UNIX timestamps .
To convert these timestamps to a human readable date, set your data destination to cell B1, and add the following formula to cell A2:
=arrayformula(if(I2:I<>"",(I2:I/86400)+DATE(1970,1,1),""))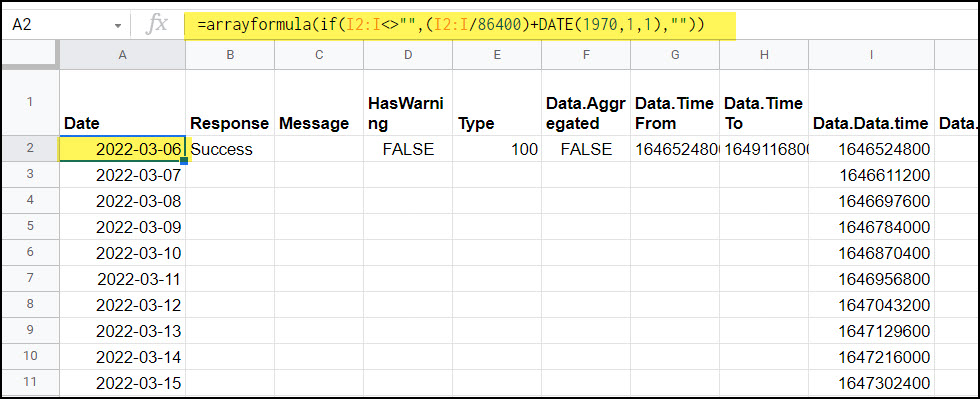 I2:I reflects the column in which the timestamp is located, so just modify it to match the column in which you want to convert timestamps.
Part 5: API Documentation
Official API documentation: https://min-api.cryptocompare.com/documentation