Search API Connector Documentation
Import CryptoCompare Data to Google Sheets
In this guide, we'll walk through how to pull cryptocurrency data from the CryptoCompare API directly into Google Sheets, using the API Connector add-on for Sheets.
Personally, this is my favorite crypto API due to their generous limits, wide range of available data, and excellent documentation (including an API request builder tool).
We'll first get an API key from CryptoCompare, and then set up a request to pull in cryptocurrency exchange rate details to your spreadsheet.
Contents
Before You Begin
Click here to install the API Connector add-on from the Google Marketplace.
Part 1: Get Your CryptoCompare API Key
If you haven't already, navigate to https://min-api.cryptocompare.com/pricing and click Get your free key.

Fill out your details and click Sign Up
A moment later you'll receive an email. Click on the email to verify your account, and you'll land on your new CryptoCurrency dashboard. Click https://www.cryptocompare.com/cryptopian/api-keys to access the API key section of your account.
Click Create an API key

Give your API key a name, it can be anything but here we'll call it 'Crypto for Google Sheets'. Select the permissions you'd like, and click Add.

You'll now see your API key. Congrats, you now have access to the CryptoCompare API! Copy this and keep it handy, we'll need it in a moment.

Part 2: Create Your CryptoCompare API Request URL
We'll first access the current price of BTC (Bitcoin) across several fiat trading pairs.
API root: https://min-api.cryptocompare.com
Endpoint: /data/price
Query Strings: ?fsym=BTC&tsyms=USD,JPY,EUR
Putting it together, we get the full API Request URL:
https://min-api.cryptocompare.com/data/price?fsym=BTC&tsyms=USD,JPY,EUR
Part 3: Pull CryptoCompare API Data into Sheets
We can now enter all our values into API Connector.
Open up Google Sheets and click Extensions > API Connector > Open.
In the Create tab, enter the API URL we just created.


We don't need any OAuth authentication so just leave that set to None.
Under Headers enter a set of key-value pairs like this:


| | |
| --- | --- |
| authorization | Apikey YOUR_API_KEY |

Replace YOUR_API_KEY with the API key you received above in step 6.

Create a new tab and click Set current to use that tab as your data destination.
Name your request and click Run. A moment later you'll see the latest exchange rates for Bitcoin in your Google Sheet:


Part 4: Get More CryptoCompare API Data
Experiment with endpoints and query strings as described in the documentation to see other types of cryptocurrency data, or try the following requests:
Top coins by total volume

https://min-api.cryptocompare.com/data/top/totalvolfull?limit=10&tsym=USD
Bitcoin prices and volume for the past 30 days

https://min-api.cryptocompare.com/data/v2/histoday?fsym=BTC&tsym=USD&limit=30
Get social data for a coin (Reddit posts, Twitter subscribers etc)

https://min-api.cryptocompare.com/data/social/coin/latest?coinId=4432
Get exchange data

https://min-api.cryptocompare.com/data/exchanges/general
Part 5: Handle CryptoCompare Timestamps
For most endpoints, CryptoCompare returns dates as UNIX timestamps .
To convert these timestamps to a human readable date, set your data destination to cell B1, and add the following formula to cell A2:
=arrayformula(if(I2:I<>"",(I2:I/86400)+DATE(1970,1,1),""))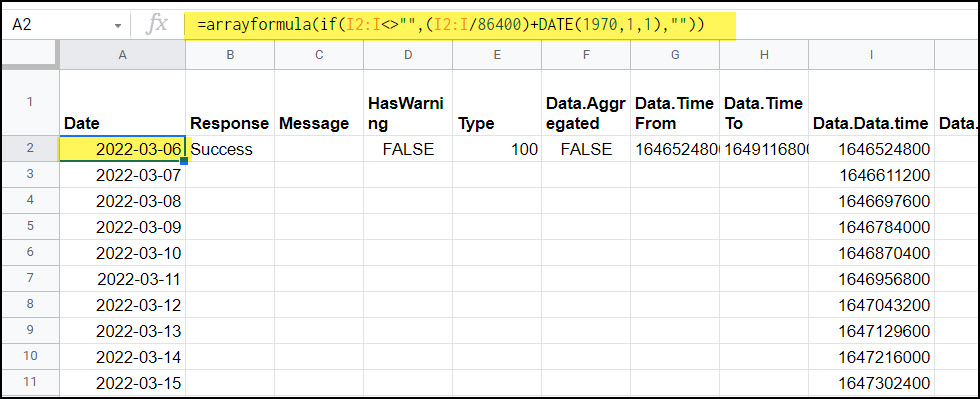 I2:I reflects the column in which the timestamp is located, so just modify it to match the column in which you want to convert timestamps.
Part 6: API Documentation
Official API documentation: https://min-api.cryptocompare.com/documentation