Import Ahrefs Data to Google Sheets
In this guide, I'll get you started on pulling data from the awesome Ahrefs SEO tool suite. Targeted around backlinks, you can use the Site Explorer, Content Explorer, Keywords Explorer, Rank Tracker, and Site Audit to compare your website to competitors. All in all, it's a pretty sweet tool and we can integrate its native API with Google Sheets! Let's jump in and see how to get started plugging out data in.
Note: Ahrefs is not a free tool, however you can pay $7 for a 7-day trial to try it out for yourself. Further, if you want to access the Ahrefs API, you have to pay an additional subscription fee. You can read more about that here: https://ahrefs.com/api/subscription.
CONTENTS
PART 1: CONNECT TO THE AHREFS API
Once you've signed up and have an account, you'll be asked to put in a website to start a project on. Go ahead and put in your website's address here: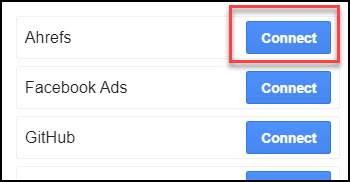 Just hit continue and go through the rest of the advanced steps if you don't know what you are doing (like me). After finishing the setup for your selected website, you should be presented with a screen like below. Go ahead and click on More -> Ahrefs API.

Now check out the left corner and click on Your API Profile.
Go ahead and generate that API token!
Great! Let's check out the documentation and see what kind of data we can get from our website.
PART 2: CREATE YOUR AHREFS API REQUEST URL
Ahrefs is nice enough to avoid a lot of the headache of piecing together an API request URL by providing us with this API request builder tool. You can access it by clicking "API Request Builder" in the left sidebar.
From here, it's super easy! Setup what data you want to get in the From drop-down, set your Limit, and copy the API URL Request output below:
https://apiv2.ahrefs.com?token=YOUR_TOKEN&target=ahrefs.com&limit=25&output=json&from=backlinks&mode=subdomains
PART 3: PULL AHREFS API DATA INTO SHEETS
Just grab that Ahrefs API URL at the bottom and head over to API Connector, paste it in, and click Run! It's that easy 🙂
PART 4: MORE EXAMPLE API URLS
As previously mentioned in the last part, Ahrefs provides a handy API tool for creating ready-to-paste API requests. A few other example endpoints that may be useful for you would be:
Top 10 backlinks:
https://apiv2.ahrefs.com?from=backlinks&limit=10&target=YOUR_DOMAIN&mode=domain&output=json&token=YOUR_TOKEN
Top 10 referring domains ordered by Domain Rating:
https://apiv2.ahrefs.com?from=refdomains&limit=10&target=YOUR_DOMAIN&mode=domain&order_by=domain_rating:desc&output=json&token=YOUR_TOKEN
New backlinks on 2020-07-20
https://apiv2.ahrefs.com?from=backlinks_new_lost&limit=10&target=YOUR_DOMAIN&where=type:"new",date:"2020-07-20"&mode=domain&output=json&token=YOUR_TOKEN