To see a list and status of your requests, toggle on request logging from the Scheduling screen.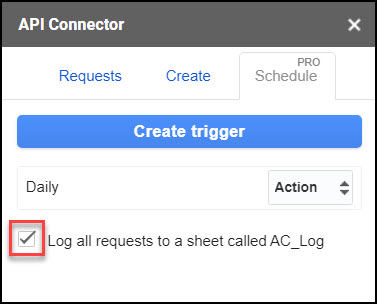 Fields Logged
timestamp
request name
trigger type (scheduled or manual)
result (started, completed, or failed)
execution time in milliseconds
email address that executed the request
The log will include both manual and scheduled requests, and will be printed in sequential order into a sheet called AC_Log.
Note that the log records separate lines for "Request started" and "Request completed". This is to identify cases where requests begin as scheduled, but time out before they complete.
What Doesn't Get Logged?
requests that run through the IMPORTAPI custom function
requests that weren't triggered. Usually this is related to exceeding Google's quotas (see Troubleshooting Triggers for more info).