Search API Connector Documentation
Contents
Sheets Overview
To see an overview of which Sheets are running requests, click Account > Sheets from the footer of API Connector.

The Sheets tab contains a month-to-date request count for the currently logged-in user, broken down by Sheet name and type (standard vs ImportAPI). Note that this modal will only show counts for the logged-in user; even Team Plan Owners can see only their own sheets and request counts, not those of the members on their plan.
Request counts reset on the 1st of each month, UTC time.
For more detailed information about the requests within each sheet, open the sheet and turn on request logging as shown below.
How to Enable Request Logging
To see a list and status of your requests, toggle on request logging from the Scheduling screen.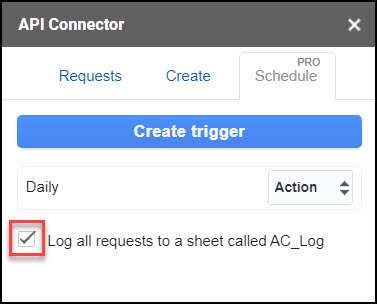 Fields Logged
timestamp
request name
trigger type (scheduled or manual)
result (started, completed, or failed)
execution time in milliseconds
email address that executed the request
The log will include both manual and scheduled requests, and will be printed in sequential order into a sheet called AC_Log.
Note that the log records separate lines for "Request started" and "Request completed". This is to identify cases where requests begin as scheduled, but time out before they complete.
Execution Time
For single requests, execution time simply equals the difference between the start time and end time.
In the case of the "All" trigger, the start time will be the time trigger has started, while execution time will be the end time of each specific request that completed based on the initial start time. This is to help establish if request chains are near the Google run limit of 6 minutes (as the 6 minutes will be the total allowed runtime for the whole trigger chain).
What Doesn't Get Logged?
Can I Delete the AC_Log Sheet?
Sure, you can delete rows or even the entire sheet, it will just recreate itself if you still have the AC_Log option on. It's a good idea to clean it up periodically to avoid producing too many unused cells in your sheet.