API Connector supports the following HTTP request methods: GET, POST, PUT, PATCH, and DELETE. Not all APIs strictly follow this usage, but in general, request methods are defined as follows:
GET: retrieve data
POST: create data
PUT: fully update (i.e. replace) an existing record
PATCH: update part of an existing record
DELETE: delete records
Each API's technical documentation will tell you which method you need for your request.
When creating a request through the API directory, the request method will be set automatically. When running a custom request, set your request method manually through the dropdown Method menu.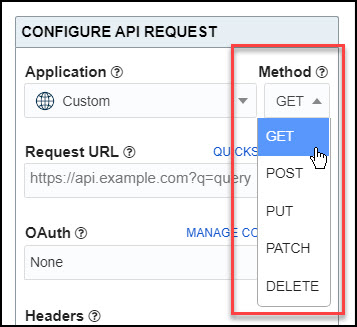 The POST, PUT, and PATCH methods will open up a window where you can enter a request body.