Search API Connector Documentation
Import Twitter Data to Google Sheets
In this guide, we'll pull Twitter data into Sheets using the API Connector add-on for Sheets.
In this article, we will only be pulling public Twitter data like tweets, not advertising or analytics data that you have to be logged in to view or manage.
On March 30, 2023, Twitter
announced
that access to basic Tweet data will cost $100/month.
Contents
Before You Begin
Click here to install the API Connector add-on from the Google Marketplace.
Part 1: Get a Twitter Access Token
Navigate to https://developer.twitter.com/ and click Sign up

You'll be asked to provide some basic info about yourself. Click Next.

Read and accept the developer agreement

You'll be asked to verify your email address. Click the verification email to finalize your developer account.
You should be taken to this screen automatically from the verification email, but if not, go to https://developer.twitter.com/en/portal/register/welcome.
You'll be asked to create and name an app. Give your app a unique name and click Get keys.

You'll now be directed into a screen containing your API keys. Copy down the value listed under Bearer Token. Congrats, you have your Twitter credentials!

Part 2: Pull Data from Twitter to Sheets
The easiest way to get started with the Twitter API is through API Connector's built-in integration.
Select Twitter from the drop-down list of applications

Under Authorization, enter the bearer token from above with the word Bearer in front.

Select an endpoint. We'll start with the /users/by endpoint, which returns information about a Twitter user

Fill out the usernames parameter with the Twitter users you'd like to look up. Optionally use the user.fields parameter to fetch additional data points.
Set a destination sheet, name your request, and click Run to see response data in your sheet.

Pay attention to the value in the data.id field. That contains the ID for each Twitter user, which you can plug into other requests.
Part 3: Get New Tweets Only
If you're fetching Tweets that match a query, you can avoid duplicates by setting your request to fetch new data only. There are a few approaches you could take; here's one:
Run an initial request to the /tweets/search/recent endpoint
Use the field editor to select just the fields you want and assign them to specific columns in your report.
The maximum (i.e. latest) Tweet ID is located in a column labeled meta.newest_id. Create a new tab called MaxId, and get the largest meta.newest_id with the function =INDEX(Twitter!L:L,MATCH("zzzz",Twitter!L:L)). (We can't use a simple function like MAX because Twitter's ID is 19 digits, and Sheets only recognizes numbers up to 15 digits).
Now reference that maximum ID in the since_id parameter of your request


This will ensure that each request starts from the end of the prior data pull. Select Append mode to add each new data pull to the end of your existing dataset.
Set your request to run on a schedule. You won't need to update your request again.
Part 4: Create a Custom API Request
Alternatively, you can run your own custom requests instead of using API Connector's pre-built integration, using any of the endpoints and parameters shown in the API documentation. To create a custom request, add the complete URL into the request URL field and include a header of Key = Authorization, Value = Bearer your token. Here's an example request setup:
Application: Custom
Method: GET
Request URL: https://api.twitter.com/2/users/by?usernames=jack,twitterdev,twitterapi,adsapi&user.fields=created_at&tweet.fields=author_id,created_at
Headers:

Authorization: Bearer your_token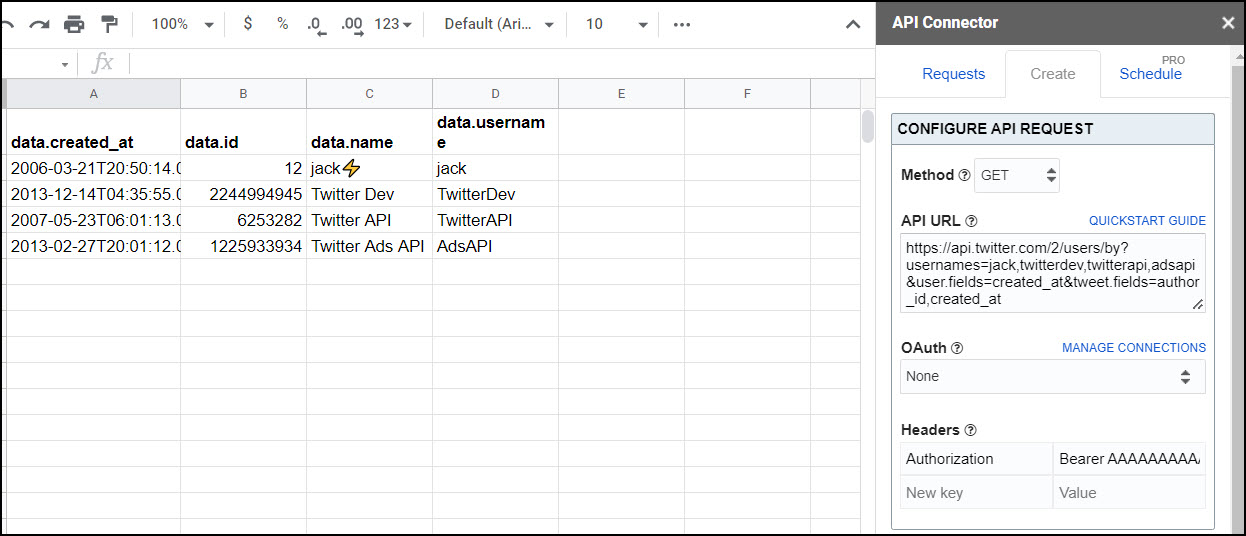 Part 5: API Documentation
Official API documentation: https://developer.twitter.com/en/docs/api-reference-index
Interactive request generator: https://developer.twitter.com/apitools/api