Search API Connector Documentation
Import HubSpot Data to Google Sheets
In this guide, we'll walk through how to pull data from the HubSpot API directly into Google Sheets, using the API Connector add-on for Sheets.
There are 2 ways to connect to the HubSpot API:
Preset "Connect" button (OAuth) premium
Access token. Please check the appendix for detailed instructions to retrieve your token.
Starting November 30, 2022, HubSpot API keys can no longer be used to access HubSpot APIs (
info
).
Contents
Before You Begin
Click here to install the API Connector add-on from the Google Marketplace.
Part 1: Connect to the HubSpot API
The easiest way to get started with the Hubspot API is through API Connector's built-in integration.
Select Hubspot CRM from the drop-down list of applications

Under Authorization, click Connect to Hubspot CRM

You'll be asked to select an account and authorize the connection. Click Connect app.

Back in Sheets, you can verify that the account is now connected.

Part 2: Pull Data from Hubspot to Sheets
Now that we're connected, let's pull some data into Sheets.
Under Endpoint, choose the data you'd like to retrieve. The /objects/contacts endpoint will return your contacts.

Optionally set any parameters, such as archive status, record limit, and properties.
Select a destination sheet, name your request, and click Run.

Part 3: Create a Custom Request
Alternatively, you can create a custom request instead of using API Connector's built-in integration, using any of the endpoints and parameters shown in their API documentation. To create a custom request, add the complete URL into the API URL field and select Hubspot from the OAuth menu (or connect with an API token).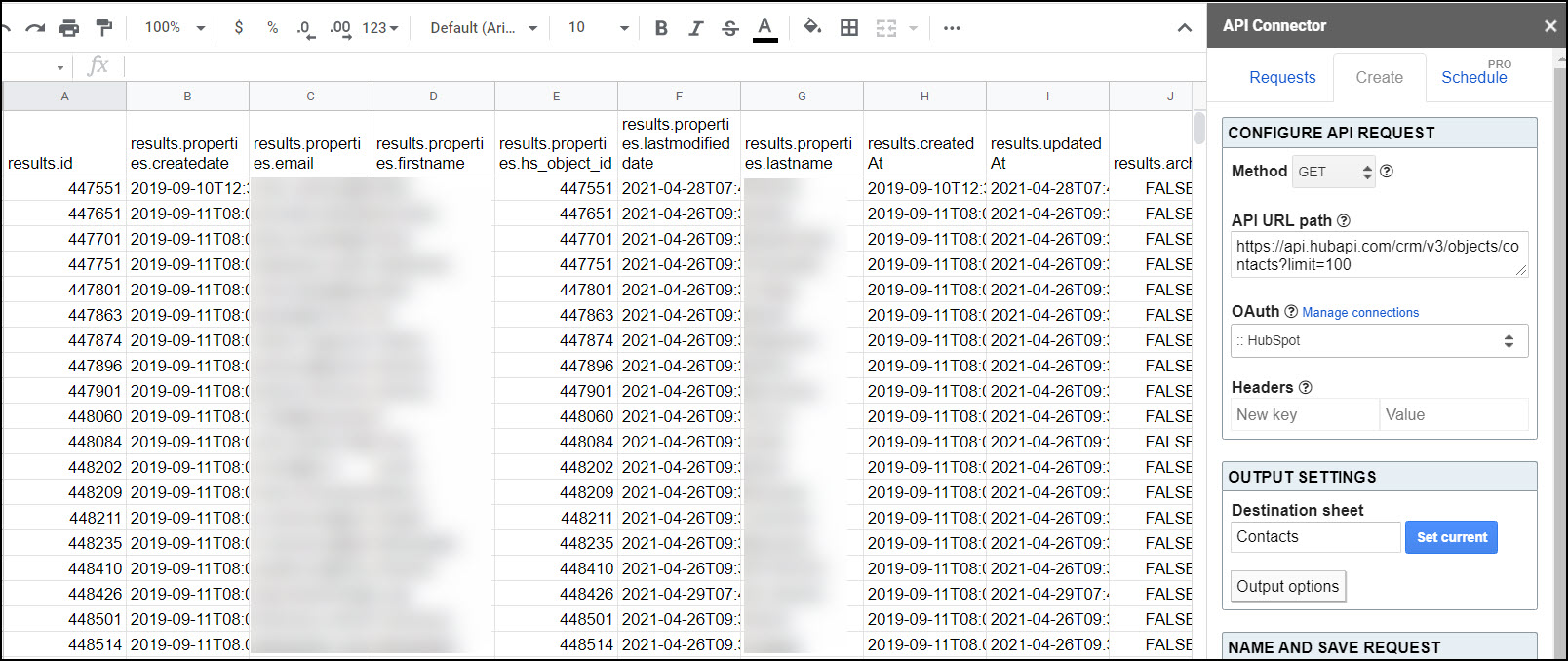 To easily convert from a preset request to a custom API URL, tick the Add request URL box before running your preset request (under Output options). This will print out your complete API URL, which you can then copy/paste into the request URL field.
Part 4: Example API URLs
You can experiment with endpoints and query strings as described in the documentation to see other types of HubSpot data. HubSpot's API is is split into separate APIs for CRM, Analytics, etc, so this is just a sampling of the different types of endpoints you can find.
Analytics API: high level metrics for May 2021

https://api.hubapi.com/analytics/v2/reports/totals/total?limit=100&start=20210501&end=20210531

Analytics API: metrics broken down by source

https://api.hubapi.com/analytics/v2/reports/sources/total?limit=100&start=20210501&end=20210531

CRM API: Companies

https://api.hubapi.com/crm/v3/objects/companies?limit=100

CRM API: Deals

https://api.hubapi.com/crm/v3/objects/deals?limit=100
Part 5: Handle Pagination
HubSpot limits the number of records returned in each request, often to just 10 records unless you add parameters and paginate through the response. This is why we set the limit=100 parameter in our example queries above. In general, Hubspot uses cursor pagination for GET requests and offset-limit-body pagination for POST requests, so both types are shown below:
1) Cursor pagination
Endpoints that use cursor pagination require that we receive a token in the response and pass it into the URL of the next request.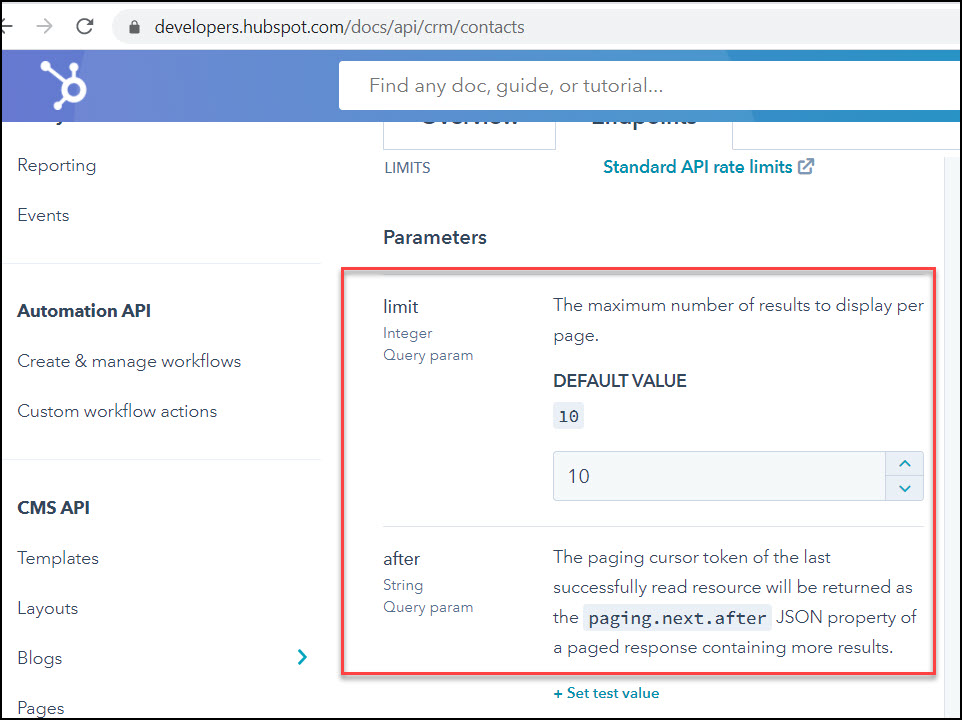 You can loop through cursor-based pagination automatically with pagination handling (paid feature), like this:
Pagination type: cursor
Next token parameter: after
Next token parameter: paging.next.after
Run until: choose when to stop fetching data

2) Offset-limit body pagination
Hubspot paginates endpoints that require POST requests, like CRM search, through the request body:
Pagination type: offset-limit body
Offset body parameter: after
Limit body parameter: limit
Limit value: 100
Run until: choose when to stop fetching data

Part 6: API Documentation
Official API documentation: https://developers.hubspot.com/docs/api/overview
Legacy API documentation: https://legacydocs.hubspot.com/docs/overview
HubSpot's API is in the midst of a migration to v3 of their API. Not all endpoints have been moved over, so you may need to toggle between their new API docs and their legacy docs. In addition, not all endpoints are available on all plans.
Appendix: Connect with a HubSpot API Key
This section is provided as a free alternative to the method described above. Instead of clicking Connect to Hubspot, you will retrieve your own API token.
In your HubSpot account, click the settings icon in the main navigation bar.
In the left sidebar menu, navigate to Integrations > Private Apps.
Click Create private app.
On the Basic Info tab, give your app a name (it can be anything)
On the Scopes tab, select the scopes you'd like your app to have access to. If you aren't sure, check Hubspot's API documentation. Each endpoint shows the scope it requires, e.g. listing Contacts requires crm.objects.contacts.read

Once you've finished selecting your scopes, click Create app in the top right corner. Don't worry if you missed anything; you can change these scopes later.
In the pop-up modal, review your settings and click Continue creating.
You'll now see your private app token. Click Show token and copy the value to your clipboard. This token will also be available in your Account settings.


To use this token, enter your API request URL and a Header where the Key = Authorization, and the Value = Bearer your_token

If you were previously using API keys, you will need to remove those from your URL and replace them with the access token header.