Search API Connector Documentation
Import CoinGecko Data to Google Sheets
In this guide, we'll walk through how to pull cryptocurrency market data from the CoinGecko API directly into Google Sheets, using the API Connector add-on for Sheets.
The cool thing about CoinGecko is that their API is free and open, so we won't need any API key. They also provide some unique API endpoints like most-searched coins.
The bad thing is that CoinGecko severely rate limits requests... you can see more on that in the "CoinGecko Limits" section. For that reason, I suggest checking out this list of alternative crypto APIs: https://mixedanalytics.com/knowledge-base/top-free-crypto-apis/
Contents
Before You Begin
Click here to install the API Connector add-on from the Google Marketplace.
Part 1: Pull CoinGecko API Data into Sheets
For our first API request, we'll get a big list of crypto coins and their current prices.
Open up Google Sheets and click Extensions > API Connector > Open > Create request.
In the request form enter the following:

Application: Custom
Method: GET
Request URL: https://api.coingecko.com/api/v3/coins/markets?vs_currency=usd

Create a new tab and click Set current to use that tab as your data destination.
Name your request and click Run. A moment later you'll see a list of coins populate your sheet.
Part 2: More Example API URLs
Experiment with endpoints and query strings as described in the documentation to see other types of currency and crypto data from the API. For example, you can try the following URLs, one at a time (substitute in other coin IDs or currencies, if you like).
current price of bitcoin in USD

https://api.coingecko.com/api/v3/simple/price?ids=bitcoin&vs_currencies=usd

specific cryptocurrencies with price, market cap, volume, and other stats

https://api.coingecko.com/api/v3/coins/markets?vs_currency=usd&ids=bitcoin,ethereum,ripple,eos

historical price snapshot of Bitcoin at a specified date

https://api.coingecko.com/api/v3/coins/bitcoin/history?date=30-12-2018

list of all supported coins with ids, names, and symbols

https://api.coingecko.com/api/v3/coins/list

list all exchanges and related info (year established, country, trade volume, etc)


https://api.coingecko.com/api/v3/exchanges

get exchange rates for BTC in every currency


https://api.coingecko.com/api/v3/exchange_rates


By default the /exchange-rates request URL will return all exchange rates in a single row. To split the data into a table, you can add in a JMESPath query of rates.* as shown in the screenshot above.

most-searched coins on CoinGecko in past 24 hours


https://api.coingecko.com/api/v3/search/trending
Part 3: Handle Pagination
For several endpoints, CoinGecko limits the number of records returned in each response. By default, only 100 records will be returned unless you use the 'page' and 'per_page' parameters as shown in their documentation.



With API Connector you can either paginate through these URLs manually as shown above, or loop through them automatically with page parameter pagination handling (paid feature), like this:


API URL: enter your request URL, including per_page=250
Pagination type: page parameter
Page parameter: page
Run until: choose when to stop running the request

Part 4: CoinGecko Limits

If you use CoinGecko's API for a while, you'll probably come across an annoying problem, error messages like these:
API server responded with an error (429), error code: 1015
API server responded with an error (403): error code: 1020
CoinGecko limits requests to 10 calls per second per IP address, as shown in their terms & conditions:


Unfortunately, when you run your requests through API Connector / Google Sheets, you're more likely to hit these rate limits because all requests running through Google Sheets share the same pool of IP addresses from Google's servers.
There's not much we can do about this except wait a minute and try again (and hope that CoinGecko whitelists Google in the future). In addition, make sure you're combining requests into a single call wherever possible. DON'T smash their servers with thousands of requests as it will make the problem worse for everyone.
If you continue to have issues, I recommend switching to a crypto API that limits by your own API key rather than the shared pool of IP addresses. You can see a list of free crypto APIs here.
Part 5: API Documentation
Official API documentation: https://www.coingecko.com/en/api/documentation
Appendix: CoinGecko Template
In this template, everything is configured for you to simply type in whatever coins you're interested in and get a dashboard like below: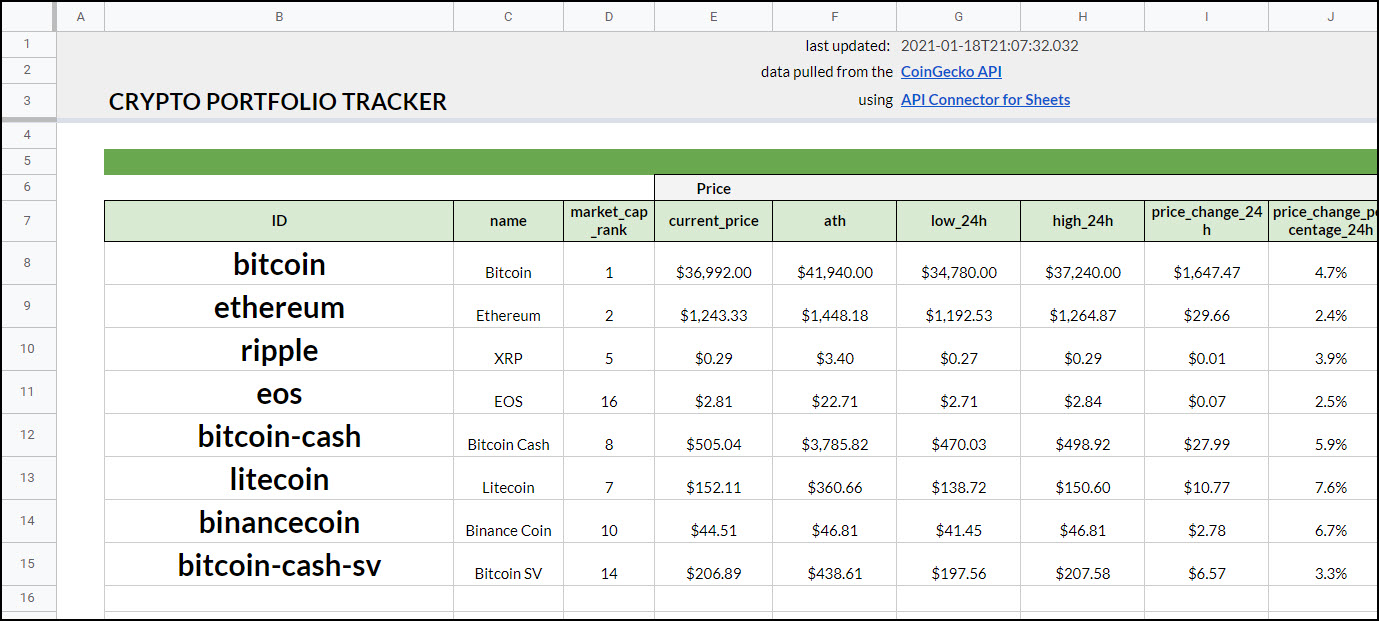 You can jump right to a copy of the template here. Happy data grabbing!