Search API Connector Documentation
Import OpenWeatherMap Data to Google Sheets
In this guide, we'll walk through how to pull data from the OpenWeatherMap API directly into Google Sheets, using the API Connector add-on for Sheets.
We'll first get an API key from OpenWeatherMap, and then set up a request to pull in weather forecast details from OpenWeatherMap to your spreadsheet.
Contents
Before You Begin
Click here to install the API Connector add-on from the Google Marketplace.
Part 1: Get Your OpenWeatherMap API Key
If you haven't already, sign up for an account at https://home.openweathermap.org/users/sign_up
Once you have an account, click your name to open the account menu and navigate to the API keys section.

There should be a default API key already created for you (if not, you can click the Generate button to make a new one). Keep it handy as we'll need it shortly. That's it! You now have access to OpenWeatherMap.
OpenWeatherMap takes some time to recognize newly created API keys, so take a little break before moving to the next section.
Part 2: Pull Data from OpenWeatherMap to Sheets
The easiest way to get started with the OpenWeatherMap API is through API Connector's built-in integration.
Select OpenWeatherMap from the drop-down list of applications

Choose an endpoint. We'll start with /geo/1.0/direct to get latitude/longitude coordinates for a location, since OpenWeatherMap needs those for its data requests.

In the parameters section, enter your API key into the appid parameter, and enter your location of interest into the q parameter
Select a destination sheet, name your request, and click Run. Note the values returned under lat and lon.

Plug those lat/lon values into other endpoints to see weather data for your location.

Part 3: Create a Custom API Request
Alternatively, you can run a custom request instead of using API Connector's built-in integration, using any of the data points shown in OpenWeatherMap's API documentation. Here is an example setup, just plug in your own API key into the appid parameter.
Application: Custom
Request method: GET
Request URL: https://api.openweathermap.org/data/2.5/forecast?appid=11111&lat=25.0375198&lon=121.5636796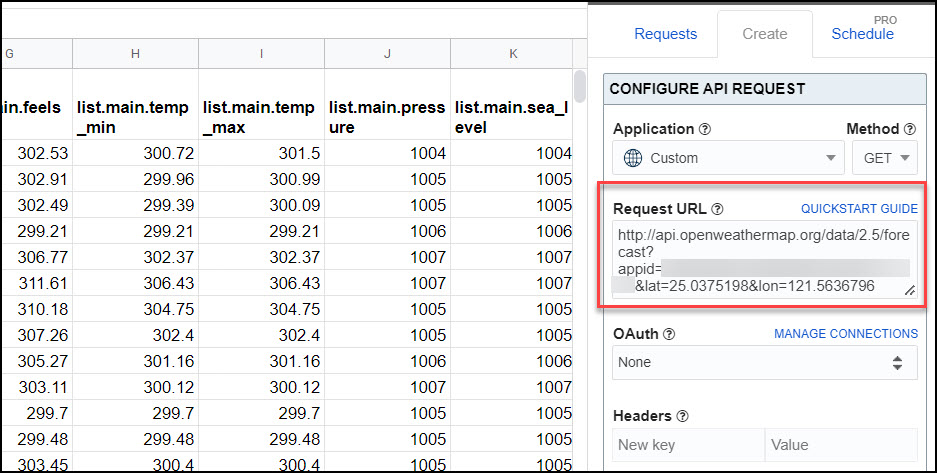 Part 4: API Documentation
Official API documentation: https://openweathermap.org/appid