API Connector Pro
CONTENTS
FREE VS. PRO
The free version of the API Connector for Google Sheets add-on enables up to 8 daily standard API requests, while the paid versions allow more requests, scheduling, JMESPath filtering, pagination handling, OAuth2 support, and additional power features.
See a summary of differences and frequently asked questions at https://mixedanalytics.com/api-connector-pricing/.
FREE TRIAL
When you install this add-on, you will automatically enter a 7-day free trial that activates all features. After 7 days, you can choose to upgrade to a paid plan or continue using the free features.
PAID ACCESS
Paid access is tied to the Google account that makes the purchase. One purchase provides access for one Google account, and can be used for as many sheets as you like.
When you share sheets with others, they can see the data returned by your API requests and triggers. However, the add-on will run under their own Google account, meaning they won't be able to create their own triggers or access other paid features unless they also have paid access.
ACCOUNT CANCELLATION
From within Google Sheets, you can cancel your subscription at any time by navigating to Add-ons > API Connector > Account and toggling off automatic renewals.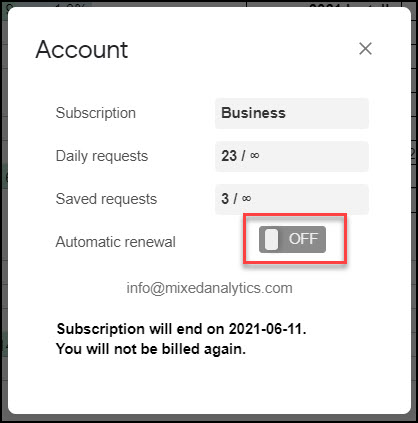 When you cancel your subscription, you won't get billed again, and your subscription will remain active to the end of your billing period.
SUBSCRIPTION MANAGEMENT
You can access additional subscription management features at this link: https://mixedanalytics.com/api-connector/manage-subscription/
Subscription management includes the following features:
Update your credit card and other billing information
View and download past invoices
Cancel subscription
ACCOUNT UPGRADES
If you would like to change your subscription type or switch pro access to a different email account, please send a message through the API Connector contact form.