[Solution] An error occured while the tag was fired: net :: ERR_ABORTED
Google's Tag Assistant plugin is a great tool for troubleshooting various Google tags like Google Analytics, Google AdWords, and Google Tag Manager; just install and navigate to your site to enable checks for hundreds of issues. This post will describe how to fix a couple of the most common issues reported by the Tag Assistant plugin: "An error occurred while the tag was fired: net :: ERR_ABORTED" & "An error occured while the tag was fired: net::ERR_BLOCKED_BY_CLIENT."
This issue is usually associated with the AdWords Conversion Tracking or the Google Remarketing tag.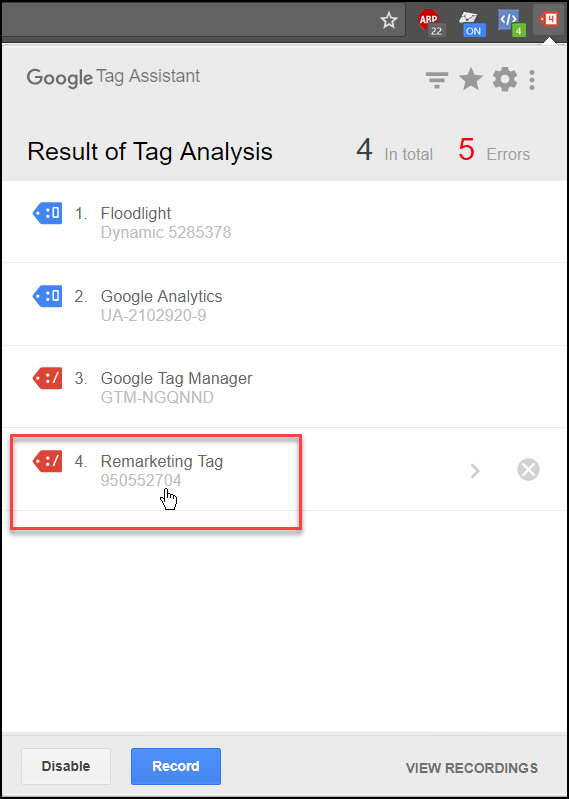 If you click into the tag details, you'll see the net::err_aborted or net::err_blocked error message: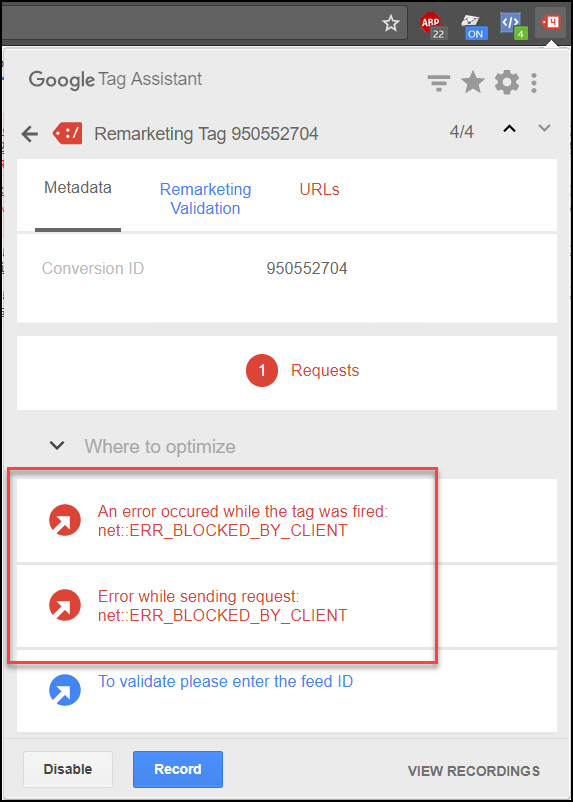 Errors like "An error occured while the tag was fired: net::ERR_BLOCKED_BY_CLIENT" ,"An error occurred while the tag was fired: net :: ERR_ABORTED", "Error while sending request: net::ERR_BLOCKED_BY_CLIENT", etc. usually mean that your own web browser has blocked the script from firing. In other words, it doesn't mean that the script doesn't work!
Why would your browser block the request? Many tags get blocked when you use an adblocker or even antivirus plugin. Therefore to fix this issue from being reported in Google Tag Assistant, simply do the following:
Disable your adblocker. Usually this can be done by clicking the icon in your browser bar:
Now reload the page, with the adblocker off. You should see the tag firing properly without any error message.

If the above doesn't work, disable any other extensions that may be blocking tags, e.g. Avira Browser Safety, Privacy Badger, or other anti-tracker/antivirus plugins, and reload the page.
Still having an issue? Leave a message below!