Send Google Analytics Client ID with Contact Form 7
This guide describes how to integrate the Google Analytics Client ID with the Contact Form 7 plugin for WordPress. No additional plugins are needed, though you will need to have Google Tag Manager available on the form page. While this post focuses on Contact Form 7 and the GA client ID, more generally this is a useful technique for integrating Google Analytics with a CRM and leveraging JavaScript to retrieve and send additional values alongside form submissions.
STEPS OVERVIEW
add a hidden field to your form
set that hidden field to be mailed to you upon form submission
extract the GA client ID and store it into a Google Tag Manager variable
populate the hidden field with the GA client ID
set the tag to fire on your form page
STEP 1: ADD A HIDDEN FIELD TO CONTACT FORM 7
In your WordPress dashboard, edit an existing form or navigate to Contact > Add New to launch the Contact Form 7 new form template.
At the top, add a new hidden text field as follows. To make it easier to follow along, use the same code and naming conventions that you see in this post.
[

hidden

textarea

textarea

-

123

id

:

hidId

]
STEP 2: UPDATE THE CONTACT FORM 7 MAIL SETTINGS
Still in the Contact Form 7 settings, click the Mail tab. Add the new textarea field to the Message Body section. This is so the contents of the hidden field automatically get emailed to you when the form is submitted.
STEP 3: STORE THE GOOGLE ANALYTICS CLIENT ID IN A GOOGLE TAG MANAGER VARIABLE
Switching over to Google Tag Manager, navigate to Variables > User-Defined Variables > New and choose Custom JavaScript variable. Paste in the following code and Save it.  This code will extract the GA Client ID and store it in a variable so we can use it later.
return

ga

.

getAll

(

)

[

0

]

.

get

(

'clientId'

)

;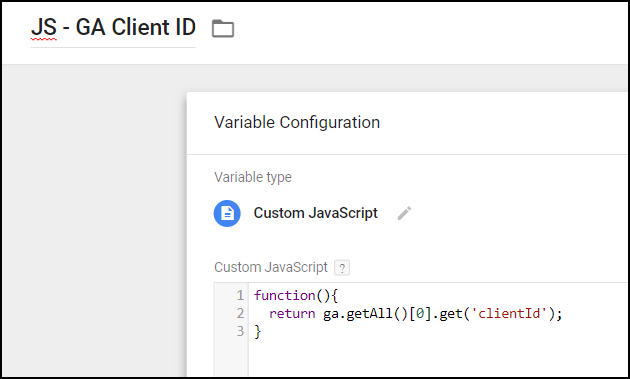 STEP 4: PUSH THE CLIENT ID INTO THE HIDDEN FORM FIELD
Navigate to Tags > New > Custom HTML Tag and paste in the following script. This will identify the hidden form field from step 1, and populate it with the client ID variable.
<script

type

=

"application/javascript"

>

var

hidId

=

document

.

querySelector

(

"#hidId"

)

;

hidId

.

value

=

{

{

JS

-

GA

Client

ID

}

}

;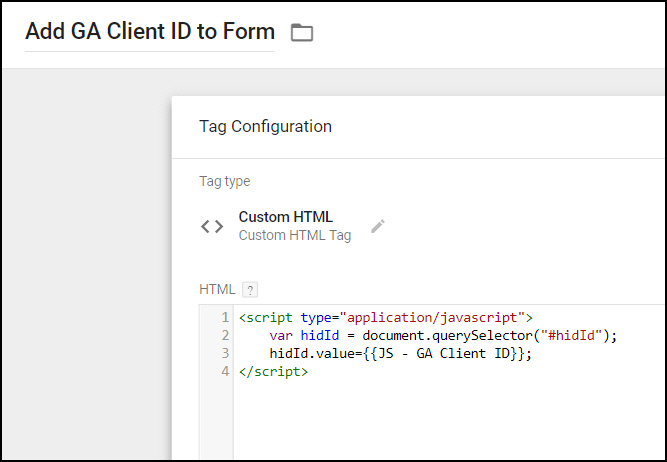 STEP 5: ADD A TRIGGER
For the above custom HTML tag, set the trigger type to Window Loaded. Window Loaded, as opposed to Page View, will provide a little more time for the page to load and thereby ensure that the client ID is available when you need it. Set the trigger to fire on your contact form page, e.g. Page Path contains /contact.
CONCLUSION
Following the above steps will allow you to push the GA client ID into your form. This means that you will see the user's GA client ID in the email you receive after a successful form submission, like this:

This technique can also be expanded to integrate Google Analytics with a CRM and send other JavaScript-accessible values (e.g. page title, device type, etc.) within your contact form.