[July 2019 Update] Top Google Sheets Add-ons
It's been a while since I did this, so this is an updated look at the top Google Sheets add-ons. I scraped this data from the Google Sheets add-on store.

Earlier posts in this series:
Background
I became interested in these stats after releasing my own add-on, so I'm quite happy with the results this time: my first add-on, Archive Data, reached 1500 users today. I also released a new add-on just 5 weeks ago, API Connector, and that one already has 561 users. Go API Connector!
Google Sheets Store Summary Stats
| | |
| --- | --- |
| Total add-ons | 904 |
| Total installations | 11,892,304 |
| Median users (installations) per add-on | 447 |
A Long Tail
At the top end, a handful of add-ons have hundreds of thousands of users — the top 10 add-ons account for 50% of users. However, the great majority have just a few hundred. 62.5% of add-ons have fewer than 1,000 users.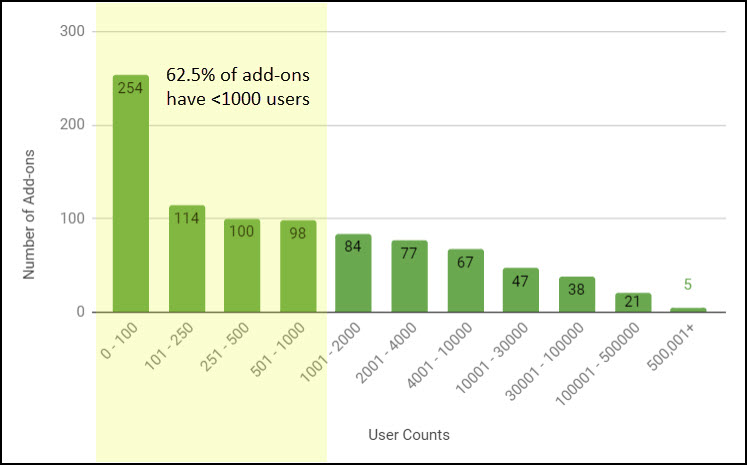 User Counts
As of July 1, 2019, these are the user counts for all add-ons in the Google Sheets store:
| | | | | | |
| --- | --- | --- | --- | --- | --- |
| # | ADD-ON NAME | July 1, 2019 | April 1, 2019 | % Change | Count Change |
| 1 | Yet Another Mail Merge | 1,337,316 | 1,232,689 | ▲ 8.5% | 104,627 |
| 2 | Flubaroo | 950,605 | 944,446 | ▲ 0.7% | 6,159 |
| 3 | Remove Duplicates_ablebits | 647,145 | 619,189 | ▲ 4.5% | 27,956 |
| 4 | Power Tools | 640,658 | 604,504 | ▲ 6.0% | 36,154 |
| 5 | Google Analytics | 576,768 | 547,757 | ▲ 5.3% | 29,011 |
| 6 | Template Gallery | 493,542 | 476,798 | ▲ 3.5% | 16,744 |
| 7 | Mail Merge with Attachments | 427,909 | 411,682 | ▲ 3.9% | 16,227 |
| 8 | Autocrat | 327,629 | 310,495 | ▲ 5.5% | 17,134 |
| 9 | Styles | 244,418 | 245,940 | ▼ -0.6% | -1,522 |
| 10 | ProjectSheet planning | 238,773 | 226,279 | ▲ 5.5% | 12,494 |
| 11 | Doctopus | 222,158 | 219,369 | ▲ 1.3% | 2,789 |
| 12 | Table Styles | 192,574 | 184,384 | ▲ 4.4% | 8,190 |
| 13 | XLMiner Analysis ToolPak | 176,675 | 162,042 | ▲ 9.0% | 14,633 |
| 14 | Mapping Sheets | 160,213 | 154,173 | ▲ 3.9% | 6,040 |
| 15 | Supermetrics | 152,694 | 144,244 | ▲ 5.9% | 8,450 |
| 16 | Merge Values | 142,952 | 136,779 | ▲ 4.5% | 6,173 |
| 17 | More Fonts | 133,104 | 133,884 | ▼ -0.6% | -780 |
| 18 | Advanced Find and Replace | 131,368 | 128,651 | ▲ 2.1% | 2,717 |
| 19 | AppSheet | 127,868 | 122,971 | ▲ 4.0% | 4,897 |
| 20 | Split Names | 123,409 | 118,643 | ▲ 4.0% | 4,766 |
| 21 | Save Emails and Attachments | 119,695 | 116,237 | ▲ 3.0% | 3,458 |
| 22 | Form Mule – Email Merge Utility | 119,097 | 114,299 | ▲ 4.2% | 4,798 |
| 23 | Save As Doc | 117,955 | 116,068 | ▲ 1.6% | 1,887 |
| 24 | Remove Blank Rows (and more!) | 111,467 | 106,061 | ▲ 5.1% | 5,406 |
| 25 | Sort By Color | 106,194 | 107,954 | ▼ -1.6% | -1,760 |
| 26 | Add Reminders | 101,445 | 97,327 | ▲ 4.2% | 4,118 |
| 27 | Flippity | 99,437 | 91,304 | ▲ 8.9% | 8,133 |
| 28 | Sheetgo | 98,698 | 92,872 | ▲ 6.3% | 5,826 |
| 29 | QR Code Generator | 96,870 | 90,609 | ▲ 6.9% | 6,261 |
| 30 | CRYPTOFINANCE | 92,738 | 92,523 | ▲ 0.2% | 215 |
| 31 | Template Vault | 86,955 | 83,337 | ▲ 4.3% | 3,618 |
| 32 | Insert and Delete Cells | 83,310 | 84,017 | ▼ -0.8% | -707 |
| 33 | Add Rows & Columns | 82,529 | 83,097 | ▼ -0.7% | -568 |
| 34 | Solver | 73,933 | 68,684 | ▲ 7.6% | 5,249 |
| 35 | ChangeCase | 72,585 | 64,539 | ▲ 12.5% | 8,046 |
| 36 | Email Scheduler | 70,162 | 70,856 | ▼ -1.0% | -694 |
| 37 | Random Generator | 69,317 | 66,908 | ▲ 3.6% | 2,409 |
| 38 | TimeSheet | 67,642 | 64,649 | ▲ 4.6% | 2,993 |
| 39 | Email Address Extractor | 64,731 | 62,507 | ▲ 3.6% | 2,224 |
| 40 | Translate My Sheet | 60,392 | 56,559 | ▲ 6.8% | 3,833 |
| 41 | Geocode by Awesome Table | 56,488 | 52,014 | ▲ 8.6% | 4,474 |
| 42 | Merge Sheets | 54,121 | 52,602 | ▲ 2.9% | 1,519 |
| 43 | Google Merchant Center | 50,802 | 46,433 | ▲ 9.4% | 4,369 |
| 44 | Blockspring | 50,068 | 49,602 | ▲ 0.9% | 466 |
| 45 | Super Quiz | 46,538 | 46,774 | ▼ -0.5% | -236 |
| 46 | Copy Down | 44,723 | 42,383 | ▲ 5.5% | 2,340 |
| 47 | Crop Sheet | 43,958 | 41,082 | ▲ 7.0% | 2,876 |
| 48 | G Merge: Mail & Doc Merge with Attachments | 41,810 | 38,408 | ▲ 8.9% | 3,402 |
| 49 | GSM MailMerge | 40,431 | 41,522 | ▼ -2.6% | -1,091 |
| 50 | OpenSolver | 38,950 | 36,198 | ▲ 7.6% | 2,752 |
| 51 | Analytics Canvas | 38,437 | 38,121 | ▲ 0.8% | 316 |
| 52 | Lucidchart Diagrams for Sheets | 35,732 | 33,604 | ▲ 6.3% | 2,128 |
| 53 | Document Studio | 35,072 | 32,545 | ▲ 7.8% | 2,527 |
| 54 | Export Sheet Data | 34,660 | 32,417 | ▲ 6.9% | 2,243 |
| 55 | chromebookInventory | 34,128 | 32,760 | ▲ 4.2% | 1,368 |
| 56 | Date Add and Subtract | 33,763 | 33,658 | ▲ 0.3% | 105 |
| 57 | Search Analytics for Sheets | 32,754 | 29,493 | ▲ 11.1% | 3,261 |
| 58 | From Sheets to Calendar | 32,590 | 32,920 | ▼ -1.0% | -330 |
| 59 | Special Characters | 32,580 | 30,955 | ▲ 5.2% | 1,625 |
| 60 | Calendar Events Creator | 32,524 | 29,865 | ▲ 8.9% | 2,659 |
| 61 | FormCreator | 30,417 | 28,969 | ▲ 5.0% | 1,448 |
| 62 | G-Connector for Salesforce | 30,344 | 28,276 | ▲ 7.3% | 2,068 |
| 63 | CoRubrics | 30,217 | 25,518 | ▲ 18.4% | 4,699 |
| 64 | Streak CRM Importer | 29,531 | 27,022 | ▲ 9.3% | 2,509 |
| 65 | Gantt Chart Generator | 28,899 | 26,338 | ▲ 9.7% | 2,561 |
| 66 | Sudoku Sheets | 28,796 | 28,099 | ▲ 2.5% | 697 |
| 67 | Twitter Archiver | 27,488 | 26,114 | ▲ 5.3% | 1,374 |
| 68 | Spreadstreet | 27,421 | 27,226 | ▲ 0.7% | 195 |
| 69 | GradeBook for Google Sheets & Classroom | 25,341 | 24,326 | ▲ 4.2% | 1,015 |
| 70 | Data Tools | 24,474 | 24,134 | ▲ 1.4% | 340 |
| 71 | Find Fuzzy Matches | 24,173 | 23,950 | ▲ 0.9% | 223 |
| 72 | rowCall | 23,714 | 23,218 | ▲ 2.1% | 496 |
| 73 | Bkper Sheets | 23,307 | 22,657 | ▲ 2.9% | 650 |
| 74 | Smart Autofill | 22,696 | 22,916 | ▼ -1.0% | -220 |
| 75 | Cloudcom SMS | 22,682 | 21,693 | ▲ 4.6% | 989 |
| 76 | Linear Optimization | 21,954 | 21,254 | ▲ 3.3% | 700 |
| 77 | Attendance Sorter | 21,437 | 20,821 | ▲ 3.0% | 616 |
| 78 | Next Generation Label Printing System | 20,719 | 20,277 | ▲ 2.2% | 442 |
| 79 | Form Maker | 20,679 | 18,843 | ▲ 9.7% | 1,836 |
| 80 | Data Everywhere | 20,503 | 20,342 | ▲ 0.8% | 161 |
| 81 | Sort Range Plus | 19,909 | 13,292 | ▲ 49.8% | 6,617 |
| 82 | Photo Gallery by Awesome Table | 19,152 | 17,447 | ▲ 9.8% | 1,705 |
| 83 | Risk Solver | 18,776 | 18,161 | ▲ 3.4% | 615 |
| 84 | Goal Seek | 18,141 | 16,039 | ▲ 13.1% | 2,102 |
| 85 | Online Rubric | 17,589 | 17,278 | ▲ 1.8% | 311 |
| 86 | BillMyClients_liquidsequence | 16,757 | 16,926 | ▼ -1.0% | -169 |
| 87 | Geocode Cells | 16,586 | 15,051 | ▲ 10.2% | 1,535 |
| 88 | Files Cabinet by Awesome Table | 16,337 | 15,667 | ▲ 4.3% | 670 |
| 89 | Mail Merge_mailmergeemail | 16,218 | 15,204 | ▲ 6.7% | 1,014 |
| 90 | Copper CRM Custom Report Builder | 15,973 | 15,582 | ▲ 2.5% | 391 |
| 91 | Solve Report Builder | 15,648 | 15,491 | ▲ 1.0% | 157 |
| 92 | SurveyMonkey | 15,358 | 14,764 | ▲ 4.0% | 594 |
| 93 | Email Autoresponder | 15,334 | 15,485 | ▼ -1.0% | -151 |
| 94 | Email Forwarder | 14,898 | 15,109 | ▼ -1.4% | -211 |
| 95 | Import Calendar Events to Spreadsheet | 14,767 | 13,458 | ▲ 9.7% | 1,309 |
| 96 | gClassFolders | 14,732 | 14,796 | ▼ -0.4% | -64 |
| 97 | Hunter | 14,641 | 13,982 | ▲ 4.7% | 659 |
| 98 | Scan-IT to Office | 13,890 | 10,468 | ▲ 32.7% | 3,422 |
| 99 | ColorArranger | 13,769 | 11,615 | ▲ 18.5% | 2,154 |
| 100 | Remove Duplicates_expand9 | 13,382 | 10,240 | ▲ 30.7% | 3,142 |
| 101 | OWOX BI BigQuery Reports | 13,337 | 12,576 | ▲ 6.1% | 761 |
| 102 | Data connector for Salesforce | 12,738 | 8,934 | ▲ 42.6% | 3,804 |
| 103 | Drive Permissions Auditor | 12,562 | 12,196 | ▲ 3.0% | 366 |
| 104 | | 12,516 | 10,772 | ▲ 16.2% | 1,744 |
| 105 | Ultradox Trigger | 12,261 | 12,127 | ▲ 1.1% | 134 |
| 106 | Zoho Projects | 11,775 | 11,750 | ▲ 0.2% | 25 |
| 107 | Mail Merge_mmsquicklution | 11,370 | 11,031 | ▲ 3.1% | 339 |
| 108 | rosterSync – Teacher Edition | 11,073 | 10,742 | ▲ 3.1% | 331 |
| 109 | Lab Scheduler | 10,666 | 10,753 | ▼ -0.8% | -87 |
| 110 | Email Range | 10,454 | 10,579 | ▼ -1.2% | -125 |
| 111 | Bulk Sheet Manager | 9,816 | 8,985 | ▲ 9.2% | 831 |
| 112 | Fast Calendar | 9,550 | 8,039 | ▲ 18.8% | 1,511 |
| 113 | Spell checker and Grammar checker by Scribens | 9,447 | 8,702 | ▲ 8.6% | 745 |
| 114 | Gopher for Chrome | 9,240 | 8,157 | ▲ 13.3% | 1,083 |
| 115 | Custom Count and Sum | 9,105 | 8,701 | ▲ 4.6% | 404 |
| 116 | Rose Task Manager | 9,074 | 8,943 | ▲ 1.5% | 131 |
| 117 | Tiller | 9,073 | 7,161 | ▲ 26.7% | 1,912 |
| 118 | Cell Color Functions | 8,997 | 9,107 | ▼ -1.2% | -110 |
| 119 | Xinox Gantt | 8,669 | 8,827 | ▼ -1.8% | -158 |
| 120 | SMS Sheet | 8,660 | 8,046 | ▲ 7.6% | 614 |
| 121 | What-If Analysis | 8,168 | 6,290 | ▲ 29.9% | 1,878 |
| 122 | siteMaestro | 8,048 | 7,999 | ▲ 0.6% | 49 |
| 123 | CSV Converter | 8,000 | 8,104 | ▼ -1.3% | -104 |
| 124 | Display All Calendars | 7,971 | 7,894 | ▲ 1.0% | 77 |
| 125 | Email Spreadsheet | 7,844 | 7,905 | ▼ -0.8% | -61 |
| 126 | DigitalStamp4Sheet | 7,721 | 7,184 | ▲ 7.5% | 537 |
| 127 | Twitter Curator | 7,613 | 7,555 | ▲ 0.8% | 58 |
| 128 | Dicers | 7,448 | 6,445 | ▲ 15.6% | 1,003 |
| 129 | Omni Translator | 7,402 | 6,756 | ▲ 9.6% | 646 |
| 130 | Combine Sheets | 7,389 | 6,586 | ▲ 12.2% | 803 |
| 131 | Sites Catalog by Awesome Table | 7,339 | 7,183 | ▲ 2.2% | 156 |
| 132 | MessageCloud Send & Receive SMS, & HLR Lookup | 7,292 | 6,846 | ▲ 6.5% | 446 |
| 133 | Wave Connect | 7,178 | 2,669 | ▲ 168.9% | 4,509 |
| 134 | Dragon Standard BOM | 6,942 | 6,722 | ▲ 3.3% | 220 |
| 135 | ezGeocode | 6,889 | 6,432 | ▲ 7.1% | 457 |
| 136 | Calculator | 6,583 | 6,081 | ▲ 8.3% | 502 |
| 137 | Sheet Page Break | 6,413 | 6,167 | ▲ 4.0% | 246 |
| 138 | Intrinio – Financial Data | 6,388 | 6,313 | ▲ 1.2% | 75 |
| 139 | ImageKit | 6,363 | 5,618 | ▲ 13.3% | 745 |
| 140 | LastEdit | 6,284 | 6,330 | ▼ -0.7% | -46 |
| 141 | SankeySnip | 6,142 | 5,538 | ▲ 10.9% | 604 |
| 142 | Amazon ASIN Lookup | 6,072 | 5,738 | ▲ 5.8% | 334 |
| 143 | Magic Json | 5,981 | 6,067 | ▼ -1.4% | -86 |
| 144 | Create QR Codes | 5,902 | 5,956 | ▼ -0.9% | -54 |
| 145 | Docs Creator | 5,883 | 5,413 | ▲ 8.7% | 470 |
| 146 | Magic Cell Notifications | 5,733 | 4,840 | ▲ 18.5% | 893 |
| 147 | Crypto for Google Sheet | 5,627 | 5,475 | ▲ 2.8% | 152 |
| 148 | Wolfram|Alpha for Sheets | 5,607 | 5,269 | ▲ 6.4% | 338 |
| 149 | Get Shopify Orders | 5,406 | 4,374 | ▲ 23.6% | 1,032 |
| 150 | LatexKit | 5,384 | 4,613 | ▲ 16.7% | 771 |
| 151 | Form Workflow Plus | 5,370 | 4,798 | ▲ 11.9% | 572 |
| 152 | MarkdownTableMaker | 5,327 | 4,928 | ▲ 8.1% | 399 |
| 153 | Peoples Choice Sheet Tools | 5,321 | 5,389 | ▼ -1.3% | -68 |
| 154 | Sheets2GCal | 5,264 | 4,109 | ▲ 28.1% | 1,155 |
| 155 | ScripTouch Sign and Save for Google Sheets | 5,167 | 4,517 | ▲ 14.4% | 650 |
| 156 | Greenhouse Report Connector | 5,161 | 4,323 | ▲ 19.4% | 838 |
| 157 | Drive Eye | 5,152 | 5,212 | ▼ -1.2% | -60 |
| 158 | People Directory by Awesome Table | 5,146 | 5,040 | ▲ 2.1% | 106 |
| 159 | ezNotifications for Sheets | 5,075 | 4,980 | ▲ 1.9% | 95 |
| 160 | OWOX BI Data Upload | 5,012 | 4,886 | ▲ 2.6% | 126 |
| 161 | Advanced URL Shortener | 4,902 | 4,021 | ▲ 21.9% | 881 |
| 162 | Power Regression | 4,786 | 4,840 | ▼ -1.1% | -54 |
| 163 | case Converter | 4,763 | 1,701 | ▲ 180.0% | 3,062 |
| 164 | Sensitivity Macro | 4,735 | 4,770 | ▼ -0.7% | -35 |
| 165 | Extract Drive Links | 4,615 | 4,682 | ▼ -1.4% | -67 |
| 166 | finbox.com | Import Stock Quotes & Financials | 4,598 | 4,338 | ▲ 6.0% | 260 |
| 167 | VLOOKUPSTR | 4,589 | 4,421 | ▲ 3.8% | 168 |
| 168 | Email.Remind | 4,581 | 4,623 | ▼ -0.9% | -42 |
| 169 | Gmail Merge | 4,565 | 5,225 | ▼ -12.6% | -660 |
| 170 | Evepraisal Tools | 4,531 | 3,755 | ▲ 20.7% | 776 |
| 171 | SmartDraw Diagrams | 4,430 | 4,103 | ▲ 8.0% | 327 |
| 172 | Project Aid for Jira | 4,387 | 4,016 | ▲ 9.2% | 371 |
| 173 | Essay Metrics | 4,197 | 4,238 | ▼ -1.0% | -41 |
| 174 | Team Color | 4,195 | 4,237 | ▼ -1.0% | -42 |
| 175 | Uchet Zakazov | 4,136 | 3,701 | ▲ 11.8% | 435 |
| 176 | Admin Calendar to Spreadsheet | 4,088 | 4,121 | ▼ -0.8% | -33 |
| 177 | Text2Link | 4,016 | 3,923 | ▲ 2.4% | 93 |
| 178 | Shift Scheduler | 3,925 | 2,930 | ▲ 34.0% | 995 |
| 179 | Drive File Manager | 3,875 | 3,917 | ▼ -1.1% | -42 |
| 180 | Currency Converter | 3,862 | 3,902 | ▼ -1.0% | -40 |
| 181 | Pictographr | 3,814 | 3,688 | ▲ 3.4% | 126 |
| 182 | Size My Sheet | 3,803 | 3,328 | ▲ 14.3% | 475 |
| 183 | Labels Manager for Gmail | 3,714 | 2,711 | ▲ 37.0% | 1,003 |
| 184 | BigML | 3,710 | 3,468 | ▲ 7.0% | 242 |
| 185 | Music Chart | 3,701 | 3,710 | ▼ -0.2% | -9 |
| 186 | Contacts+ for Google Sheets | 3,695 | 3,000 | ▲ 23.2% | 695 |
| 187 | Advanced CFO Solutions MySQL Query | 3,655 | 3,557 | ▲ 2.8% | 98 |
| 188 | link.fish – Web Scraping | 3,636 | 3,103 | ▲ 17.2% | 533 |
| 189 | Database Browser | 3,630 | 3,098 | ▲ 17.2% | 532 |
| 190 | SeekWell | 3,522 | 3,166 | ▲ 11.2% | 356 |
| 191 | GroupRo | 3,440 | 3,478 | ▼ -1.1% | -38 |
| 192 | Drive Direct Links | 3,407 | 2,820 | ▲ 20.8% | 587 |
| 193 | Jama Analyze for Sheets | 3,404 | 3,346 | ▲ 1.7% | 58 |
| 194 | Simple Gmail Merge | 3,403 | 3,131 | ▲ 8.7% | 272 |
| 195 | SearchMan for Sheets | 3,377 | 3,324 | ▲ 1.6% | 53 |
| 196 | 文字変換くん | 3,336 | 3,150 | ▲ 5.9% | 186 |
| 197 | ChartMogul | 3,334 | 3,160 | ▲ 5.5% | 174 |
| 198 | FindThatLead | 3,270 | 3,237 | ▲ 1.0% | 33 |
| 199 | MonkeyLearn | 3,260 | 2,711 | ▲ 20.3% | 549 |
| 200 | Mass Upload Images to Google Sheets | 3,136 | 3,007 | ▲ 4.3% | 129 |
| 201 | Publication workflow by Awesome Table | 3,130 | 3,049 | ▲ 2.7% | 81 |
| 202 | Quiz Banker | 3,098 | 2,697 | ▲ 14.9% | 401 |
| 203 | AutoMagic | 3,047 | 3,092 | ▼ -1.5% | -45 |
| 204 | Puzzle-solving Functions | 2,968 | 2,926 | ▲ 1.4% | 42 |
| 205 | Doubleclick Dynamic Feed Validator | 2,954 | 2,979 | ▼ -0.8% | -25 |
| 206 | Airtable Importer by Railsware | 2,919 | 2,538 | ▲ 15.0% | 381 |
| 207 | Auto Email Spreadsheet | 2,910 | 2,734 | ▲ 6.4% | 176 |
| 208 | Sheet Easy Mail Merge | 2,907 | 2,714 | ▲ 7.1% | 193 |
| 209 | Magic Spreadsheet | 2,906 | 2,775 | ▲ 4.7% | 131 |
| 210 | Time for Work | 2,853 | 2,739 | ▲ 4.2% | 114 |
| 211 | Kloudio | 2,819 | 2,591 | ▲ 8.8% | 228 |
| 212 | Keemei | 2,794 | 2,347 | ▲ 19.0% | 447 |
| 213 | PointVirgule | 2,766 | 2,805 | ▼ -1.4% | -39 |
| 214 | EIA API Data Browser | 2,752 | 2,564 | ▲ 7.3% | 188 |
| 215 | GCRmanager | 2,735 | 2,756 | ▼ -0.8% | -21 |
| 216 | Adapt Seeker – Email Finder | 2,702 | 2,585 | ▲ 4.5% | 117 |
| 217 | Skyvia Query | 2,674 | 2,341 | ▲ 14.2% | 333 |
| 218 | Magic Mail Merge | 2,650 | 2,393 | ▲ 10.7% | 257 |
| 219 | Formula Helper | 2,625 | 2,538 | ▲ 3.4% | 87 |
| 220 | Wikipedia and Wikidata Tools | 2,619 | 2,338 | ▲ 12.0% | 281 |
| 221 | Contacts Sort | 2,603 | 2,618 | ▼ -0.6% | -15 |
| 222 | Trigger & Send | 2,568 | 2,366 | ▲ 8.5% | 202 |
| 223 | Map My Sheet | 2,567 | 2,155 | ▲ 19.1% | 412 |
| 224 | BPI Tools | 2,558 | 2,389 | ▲ 7.1% | 169 |
| 225 | Blank Detector | 2,535 | 2,399 | ▲ 5.7% | 136 |
| 226 | Company Domain Match | 2,479 | 2,271 | ▲ 9.2% | 208 |
| 227 | Insert icons for Sheets | 2,478 | 1,883 | ▲ 31.6% | 595 |
| 228 | BillMyClients_bridgeworks | 2,458 | 2,173 | ▲ 13.1% | 285 |
| 229 | AdWords Match Type | 2,443 | 2,011 | ▲ 21.5% | 432 |
| 230 | DigiXport | 2,429 | 2,030 | ▲ 19.7% | 399 |
| 231 | Knoema DataFinder | 2,426 | 2,334 | ▲ 3.9% | 92 |
| 232 | BadgeU | 2,382 | 2,350 | ▲ 1.4% | 32 |
| 233 | Crypto Portfolio Tracker | 2,341 | 2,119 | ▲ 10.5% | 222 |
| 234 | The Project Engine | 2,310 | 2,203 | ▲ 4.9% | 107 |
| 235 | Text Adder | 2,295 | 2,326 | ▼ -1.3% | -31 |
| 236 | Daily Sheet Generator | 2,277 | 2,255 | ▲ 1.0% | 22 |
| 237 | GSheets Calc | 2,259 | 2,135 | ▲ 5.8% | 124 |
| 238 | Onshape BOM | 2,216 | 2,172 | ▲ 2.0% | 44 |
| 239 | Fast Quiz | 2,197 | 1,989 | ▲ 10.5% | 208 |
| 240 | Notify Forms | 2,195 | 2,080 | ▲ 5.5% | 115 |
| 241 | ChordSnip | 2,184 | 2,020 | ▲ 8.1% | 164 |
| 242 | Collavate for Google Sheets Add-on | 2,116 | 2,043 | ▲ 3.6% | 73 |
| 243 | JSON-Base64 Import/Export | 2,112 | 2,000 | ▲ 5.6% | 112 |
| 244 | Magic Make Copies | 2,106 | 1,585 | ▲ 32.9% | 521 |
| 245 | GESI | 2,098 | 0 | | 2,098 |
| 246 | AdStage for Google Sheets | 2,092 | 1,843 | ▲ 13.5% | 249 |
| 247 | Jira Cloud for Sheets | 2,087 | 486 | ▲ 329.4% | 1,601 |
| 248 | Gopher for Users | 2,085 | 1,881 | ▲ 10.8% | 204 |
| 249 | LumWork | 2,063 | 1,953 | ▲ 5.6% | 110 |
| 250 | Octopart | 2,045 | 2,059 | ▼ -0.7% | -14 |
| 251 | Calendar Event Automator | 2,036 | 1,674 | ▲ 21.6% | 362 |
| 252 | Email Verification | 2,033 | 1,810 | ▲ 12.3% | 223 |
| 253 | GA Campaign URL | 2,013 | 1,961 | ▲ 2.7% | 52 |
| 254 | Business Hangouts for Sheets | 2,009 | 2,026 | ▼ -0.8% | -17 |
| 255 | Sheets Market Data | 1,975 | 908 | ▲ 117.5% | 1,067 |
| 256 | Advanced Find & Replace | 1,881 | 1,727 | ▲ 8.9% | 154 |
| 257 | TP Gradebook | 1,878 | 1,837 | ▲ 2.2% | 41 |
| 258 | Two-way Geocoding | 1,875 | 1,526 | ▲ 22.9% | 349 |
| 259 | Time Study – BPI Tools | 1,865 | 1,748 | ▲ 6.7% | 117 |
| 260 | Slides Creator | 1,863 | 1,703 | ▲ 9.4% | 160 |
| 261 | YouSendr Email | 1,858 | 1,099 | ▲ 69.1% | 759 |
| 262 | EZ Query | 1,840 | 1,374 | ▲ 33.9% | 466 |
| 263 | Shopping Cart | 1,835 | 1,849 | ▼ -0.8% | -14 |
| 264 | rosterSync – Admin Edition | 1,813 | 1,801 | ▲ 0.7% | 12 |
| 265 | µFunds | 1,812 | 1,570 | ▲ 15.4% | 242 |
| 266 | instagReader | 1,797 | 1,439 | ▲ 24.9% | 358 |
| 267 | Get Contacts | 1,776 | 1,787 | ▼ -0.6% | -11 |
| 268 | Markets4Sheets | 1,767 | 1,594 | ▲ 10.9% | 173 |
| 269 | G-Accon for XERO | 1,765 | 1,522 | ▲ 16.0% | 243 |
| 270 | Versature for Sheets | 1,763 | 1,627 | ▲ 8.4% | 136 |
| 271 | StatX Sheets Connector | 1,757 | 1,693 | ▲ 3.8% | 64 |
| 272 | gDoc Signer for Sheets | 1,745 | 1,532 | ▲ 13.9% | 213 |
| 273 | Social Drop | 1,738 | 1,749 | ▼ -0.6% | -11 |
| 274 | AWS Pricing Helper | 1,735 | 1,715 | ▲ 1.2% | 20 |
| 275 | Sports Odds | 1,724 | 1,450 | ▲ 18.9% | 274 |
| 276 | Acrolinx | 1,711 | 1,737 | ▼ -1.5% | -26 |
| 277 | Column Tools | 1,700 | 1,336 | ▲ 27.2% | 364 |
| 278 | Spreadsheet Mailer | 1,694 | 1,634 | ▲ 3.7% | 60 |
| 279 | Chart Exporter | 1,678 | 1,631 | ▲ 2.9% | 47 |
| 280 | Rebrandly | 1,659 | 1,458 | ▲ 13.8% | 201 |
| 281 | Cloud Ignite | 1,641 | 1,597 | ▲ 2.8% | 44 |
| 282 | Accounts Manager | 1,640 | 1,595 | ▲ 2.8% | 45 |
| 283 | Gradebook – Fully loaded | 1,599 | 1,528 | ▲ 4.6% | 71 |
| 284 | Bounce checker | 1,596 | 1,292 | ▲ 23.5% | 304 |
| 285 | Spreadsheet To Elasticsearch | 1,594 | 1,512 | ▲ 5.4% | 82 |
| 286 | DataCombiner | 1,530 | 1,449 | ▲ 5.6% | 81 |
| 287 | Row copy and paste | 1,515 | 1,530 | ▼ -1.0% | -15 |
| 288 | Route optimizer – SmartMonkey.io | 1,506 | 1,227 | ▲ 22.7% | 279 |
| 289 | Archive Data | 1,500 | 1,231 | ▲ 21.9% | 269 |
| 290 | InactiveUserInventory | 1,497 | 1,497 | ▲ 0.0% | 0 |
| 291 | GTasks | 1,482 | 1,356 | ▲ 9.3% | 126 |
| 292 | Sheet Switcher | 1,481 | 1,480 | ▲ 0.1% | 1 |
| 293 | Pipeliner CRM Forms | 1,461 | 1,429 | ▲ 2.2% | 32 |
| 294 | UProc for Sheets | 1,454 | 1,165 | ▲ 24.8% | 289 |
| 295 | G-Accon for HubSpot | 1,451 | 1,094 | ▲ 32.6% | 357 |
| 296 | Flookup | 1,448 | 948 | ▲ 52.7% | 500 |
| 297 | Vehicle Routing | 1,434 | 1,139 | ▲ 25.9% | 295 |
| 298 | Sheet to Calendar Evento | 1,421 | 0 | | 1,421 |
| 299 | MAD | 1,409 | 1,418 | ▼ -0.6% | -9 |
| 300 | GTM Tools by Simo Ahava | 1,407 | 1,231 | ▲ 14.3% | 176 |
| 301 | Revision History Analytics | 1,386 | 1,402 | ▼ -1.1% | -16 |
| 302 | Remove Duplicates_21designs | 1,364 | 1,393 | ▼ -2.1% | -29 |
| 303 | Sheetbase Tools | 1,354 | 1,219 | ▲ 11.1% | 135 |
| 304 | Remove Duplicates_pckapps | 1,352 | 944 | ▲ 43.2% | 408 |
| 305 | Email Notification | 1,346 | 1,373 | ▼ -2.0% | -27 |
| 306 | Brinc Cash Flow Tool | 1,343 | 1,239 | ▲ 8.4% | 104 |
| 307 | Just Move It | 1,340 | 1,309 | ▲ 2.4% | 31 |
| 308 | Freeze Selection | 1,336 | 1,223 | ▲ 9.2% | 113 |
| 309 | PDFfiller for Google Spreadsheets | 1,328 | 1,103 | ▲ 20.4% | 225 |
| 310 | Integromat | 1,273 | 470 | ▲ 170.9% | 803 |
| 311 | AppFollow: Add-on for ASO and App Reports | 1,261 | 1,009 | ▲ 25.0% | 252 |
| 312 | FullPage Translation Multiple Languages | 1,252 | 1,244 | ▲ 0.6% | 8 |
| 313 | Form Builder for Sheets | 1,246 | 518 | ▲ 140.5% | 728 |
| 314 | Linkedin Prospector – Linkedin Marketing Tool | 1,239 | 1,140 | ▲ 8.7% | 99 |
| 315 | OpenCalls.me | 1,231 | 1,249 | ▼ -1.4% | -18 |
| 316 | Folder Owner Change | 1,225 | 1,091 | ▲ 12.3% | 134 |
| 317 | ezPanel | 1,222 | 1,207 | ▲ 1.2% | 15 |
| 318 | IP2Location | 1,213 | 993 | ▲ 22.2% | 220 |
| 319 | Keep It Confidential | 1,198 | 1,215 | ▼ -1.4% | -17 |
| 320 | MergeFactory | 1,195 | 887 | ▲ 34.7% | 308 |
| 321 | random.org connector | 1,187 | 1,140 | ▲ 4.1% | 47 |
| 322 | GA Bulk URL Builder | 1,186 | 1,206 | ▼ -1.7% | -20 |
| 323 | Voronoi Map | 1,163 | 1,174 | ▼ -0.9% | -11 |
| 324 | Grackle Sheets | 1,135 | 984 | ▲ 15.3% | 151 |
| 325 | Drive Checksum | 1,135 | 1,092 | ▲ 3.9% | 43 |
| 326 | Princippia Form Library Creator | 1,128 | 1,026 | ▲ 9.9% | 102 |
| 327 | Majestic | 1,123 | 1,085 | ▲ 3.5% | 38 |
| 328 | 3D Reference | 1,110 | 963 | ▲ 15.3% | 147 |
| 329 | TextGenerator | 1,106 | 1,052 | ▲ 5.1% | 54 |
| 330 | Gmail Label Getter | 1,102 | 1,102 | ▲ 0.0% | 0 |
| 331 | upcitemdb | 1,069 | 996 | ▲ 7.3% | 73 |
| 332 | Precedence Diagram Maker | 1,056 | 867 | ▲ 21.8% | 189 |
| 333 | Google Analytics Validator | 1,046 | 951 | ▲ 10.0% | 95 |
| 334 | ObservePoint Labs | 1,034 | 988 | ▲ 4.7% | 46 |
| 335 | PhysAssist | 1,033 | 1,033 | ▲ 0.0% | 0 |
| 336 | Mailmeteor – mail merge | 1,022 | 36 | ▲ 2738.9% | 986 |
| 337 | Application Maker | 1,015 | 911 | ▲ 11.4% | 104 |
| 338 | Ok Goldy | 1,007 | 646 | ▲ 55.9% | 361 |
| 339 | Crypto Wizard | 992 | 915 | ▲ 8.4% | 77 |
| 340 | Common Core State Standards | 987 | 885 | ▲ 11.5% | 102 |
| 341 | Gopher for Groups | 985 | 870 | ▲ 13.2% | 115 |
| 342 | Sheets4Time | 983 | 995 | ▼ -1.2% | -12 |
| 343 | LazySecretary | 959 | 965 | ▼ -0.6% | -6 |
| 344 | Group Gator | 956 | 936 | ▲ 2.1% | 20 |
| 345 | CryptoCurrenciesTracker | 955 | 922 | ▲ 3.6% | 33 |
| 346 | HTML entity encoder | 952 | 892 | ▲ 6.7% | 60 |
| 347 | Personal CRM | 949 | 935 | ▲ 1.5% | 14 |
| 348 | Magic Digital Badges | 935 | 843 | ▲ 10.9% | 92 |
| 349 | BAHTTEXT | 920 | 487 | ▲ 88.9% | 433 |
| 350 | SheetsDB | 914 | 925 | ▼ -1.2% | -11 |
| 351 | Questetra BPM Suite add-on | 887 | 889 | ▼ -0.2% | -2 |
| 352 | XLSTAT 365 | 883 | 276 | ▲ 219.9% | 607 |
| 353 | Stock Share Price Analysis | 881 | 810 | ▲ 8.8% | 71 |
| 354 | PipelineDeals Data Importer | 875 | 862 | ▲ 1.5% | 13 |
| 355 | Connected Groups | 868 | 875 | ▼ -0.8% | -7 |
| 356 | Jivrus' Integra for QuickBooks | 851 | 810 | ▲ 5.1% | 41 |
| 357 | Sudota | 847 | 220 | ▲ 285.0% | 627 |
| 358 | OntoMaton | 846 | 841 | ▲ 0.6% | 5 |
| 359 | Email Parser & Analytics | 846 | 568 | ▲ 48.9% | 278 |
| 360 | Formulas by Top Contributors | 838 | 768 | ▲ 9.1% | 70 |
| 361 | Ready Steady Spell | 835 | 545 | ▲ 53.2% | 290 |
| 362 | Best Connector For Salesforce | 825 | 740 | ▲ 11.5% | 85 |
| 363 | Pensolve | 820 | 703 | ▲ 16.6% | 117 |
| 364 | Coupon Wizard | 816 | 807 | ▲ 1.1% | 9 |
| 365 | Spinify | 799 | 765 | ▲ 4.4% | 34 |
| 366 | Sound Wave Player | 786 | 792 | ▼ -0.8% | -6 |
| 367 | Validate Address | 786 | 717 | ▲ 9.6% | 69 |
| 368 | Week of the Month | 785 | 784 | ▲ 0.1% | 1 |
| 369 | GA Management Magic | 769 | 0 | | 769 |
| 370 | Java Translations Tool | 768 | 728 | ▲ 5.5% | 40 |
| 371 | EasyConcat | 767 | 773 | ▼ -0.8% | -6 |
| 372 | JIRA2PM | 765 | 746 | ▲ 2.5% | 19 |
| 373 | Custom Dimension Manager For Google Analytics | 765 | 688 | ▲ 11.2% | 77 |
| 374 | Linkedin Profiles Search | 765 | 696 | ▲ 9.9% | 69 |
| 375 | CoinGecko – Cryptocurrency Data | 762 | 437 | ▲ 74.4% | 325 |
| 376 | YT Tracker | 750 | 586 | ▲ 28.0% | 164 |
| 377 | SMSCountry | 741 | 751 | ▼ -1.3% | -10 |
| 378 | mtGaCiTaProject | 737 | 693 | ▲ 6.3% | 44 |
| 379 | Sections to Sheets | 735 | 592 | ▲ 24.2% | 143 |
| 380 | MeaningCloud | 729 | 472 | ▲ 54.4% | 257 |
| 381 | Colour Sums | 721 | 648 | ▲ 11.3% | 73 |
| 382 | CloudSimple | 718 | 714 | ▲ 0.6% | 4 |
| 383 | RearrangeScripts | 711 | 634 | ▲ 12.1% | 77 |
| 384 | Mattermark | 707 | 709 | ▼ -0.3% | -2 |
| 385 | Fast Mail | 706 | 632 | ▲ 11.7% | 74 |
| 386 | Planning | 706 | 711 | ▼ -0.7% | -5 |
| 387 | QRShare for Sheets | 702 | 513 | ▲ 36.8% | 189 |
| 388 | Cell Notes | 698 | 593 | ▲ 17.7% | 105 |
| 389 | Click to call | 678 | 455 | ▲ 49.0% | 223 |
| 390 | mongoSheet | 676 | 596 | ▲ 13.4% | 80 |
| 391 | CRYPTOWALLET | 675 | 655 | ▲ 3.1% | 20 |
| 392 | Gavagai Sentiment | 672 | 684 | ▼ -1.8% | -12 |
| 393 | GCalendar Sync for Toodledo | 667 | 674 | ▼ -1.0% | -7 |
| 394 | My Routes for Sheets | 648 | 590 | ▲ 9.8% | 58 |
| 395 | ParallelDots APIs | 640 | 509 | ▲ 25.7% | 131 |
| 396 | Toky Bulk SMS sender | 639 | 546 | ▲ 17.0% | 93 |
| 397 | Gorilla Sheets for Amazon Seller Central | 633 | 478 | ▲ 32.4% | 155 |
| 398 | Naavi Merge | 626 | 434 | ▲ 44.2% | 192 |
| 399 | Easy Localization | 624 | 631 | ▼ -1.1% | -7 |
| 400 | Google Analytics Data Importer | 618 | 621 | ▼ -0.5% | -3 |
| 401 | Calendar Heatmap | 612 | 619 | ▼ -1.1% | -7 |
| 402 | Gopher for Gmail | 608 | 494 | ▲ 23.1% | 114 |
| 403 | SEOMango | 604 | 469 | ▲ 28.8% | 135 |
| 404 | Wikipedia search bar | 604 | 520 | ▲ 16.2% | 84 |
| 405 | Importar Eventos | 600 | 509 | ▲ 17.9% | 91 |
| 406 | DukeDeploy | 597 | 579 | ▲ 3.1% | 18 |
| 407 | Buzz In | 597 | 600 | ▼ -0.5% | -3 |
| 408 | ezShared Contacts | 592 | 597 | ▼ -0.8% | -5 |
| 409 | Dependency graph visualization | 587 | 390 | ▲ 50.5% | 197 |
| 410 | Class Bank & Raffle | 583 | 585 | ▼ -0.3% | -2 |
| 411 | Sheet Navigator | 582 | 413 | ▲ 40.9% | 169 |
| 412 | SellMyProducts | 578 | 576 | ▲ 0.3% | 2 |
| 413 | Find precedents & dependents | 577 | 285 | ▲ 102.5% | 292 |
| 414 | Pipeliner CRM Templates | 575 | 544 | ▲ 5.7% | 31 |
| 415 | Receipt Printer | 574 | 520 | ▲ 10.4% | 54 |
| 416 | Plus Codes | 571 | 459 | ▲ 24.4% | 112 |
| 417 | Interlinking | 569 | 477 | ▲ 19.3% | 92 |
| 418 | API Connector | 561 | 0 | | 561 |
| 419 | JiraReportingInGSheets | 561 | 502 | ▲ 11.8% | 59 |
| 420 | GrantMerge | 561 | 553 | ▲ 1.4% | 8 |
| 421 | Charts to Images | 559 | 378 | ▲ 47.9% | 181 |
| 422 | Sheet Spider | 558 | 436 | ▲ 28.0% | 122 |
| 423 | Insert Values | 558 | 565 | ▼ -1.2% | -7 |
| 424 | CloudApp for Google Sheets | 550 | 402 | ▲ 36.8% | 148 |
| 425 | Naavi Classroom Sync | 541 | 485 | ▲ 11.5% | 56 |
| 426 | Lean Accounts | 529 | 531 | ▼ -0.4% | -2 |
| 427 | Stim8 – Estimation Tool | 526 | 527 | ▼ -0.2% | -1 |
| 428 | Drive Folder Scanner | 524 | 536 | ▼ -2.2% | -12 |
| 429 | FinanceSheets | 522 | 319 | ▲ 63.6% | 203 |
| 430 | 中文數字轉換器 | 520 | 524 | ▼ -0.8% | -4 |
| 431 | Fuzzy.ai | 519 | 499 | ▲ 4.0% | 20 |
| 432 | Export JSON Translations | 518 | 526 | ▼ -1.5% | -8 |
| 433 | Mail Scheduler | 517 | 525 | ▼ -1.5% | -8 |
| 434 | Calcbench – XBRL Financial Data | 512 | 503 | ▲ 1.8% | 9 |
| 435 | X-Author for Sheets | 506 | 479 | ▲ 5.6% | 27 |
| 436 | Hebrew Date Converter | 501 | 505 | ▼ -0.8% | -4 |
| 437 | Profit Matrix Azon Keyword Tools | 499 | 477 | ▲ 4.6% | 22 |
| 438 | Class Folder Creator | 497 | 437 | ▲ 13.7% | 60 |
| 439 | SlidesMerge | 495 | 507 | ▼ -2.4% | -12 |
| 440 | Auto Email Agenda | 493 | 444 | ▲ 11.0% | 49 |
| 441 | Fast Team | 487 | 450 | ▲ 8.2% | 37 |
| 442 | Ingestigator For Teamleader | 479 | 432 | ▲ 10.9% | 47 |
| 443 | AODocs AwesomeTable connector | 472 | 464 | ▲ 1.7% | 8 |
| 444 | Trade Defender | 468 | 473 | ▼ -1.1% | -5 |
| 445 | Remove And Highlight Duplicates | 467 | 0 | | 467 |
| 446 | SheetsIE | 463 | 320 | ▲ 44.7% | 143 |
| 447 | Time Insight | 458 | 414 | ▲ 10.6% | 44 |
| 448 | Sheet SMS | 458 | 149 | ▲ 207.4% | 309 |
| 449 | Marking Codes | 452 | 450 | ▲ 0.4% | 2 |
| 450 | Live Form | 451 | 456 | ▼ -1.1% | -5 |
| 451 | Cross Country Scorer | 449 | 441 | ▲ 1.8% | 8 |
| 452 | LunchVote | 448 | 423 | ▲ 5.9% | 25 |
| 453 | MultiExportCSV | 445 | 399 | ▲ 11.5% | 46 |
| 454 | Odge | 445 | 444 | ▲ 0.2% | 1 |
| 455 | Track My Crypto | 444 | 380 | ▲ 16.8% | 64 |
| 456 | xbrlData | 442 | 432 | ▲ 2.3% | 10 |
| 457 | Text Formula Converter | 439 | 399 | ▲ 10.0% | 40 |
| 458 | Voice Metrics | 438 | 377 | ▲ 16.2% | 61 |
| 459 | Spacer | 436 | 387 | ▲ 12.7% | 49 |
| 460 | SKAGs Table Creator | 432 | 342 | ▲ 26.3% | 90 |
| 461 | BigQuery Uploader for Sheets | 430 | 164 | ▲ 162.2% | 266 |
| 462 | Paperpusher | 424 | 357 | ▲ 18.8% | 67 |
| 463 | CalcFit VIFA Sheets | 419 | 340 | ▲ 23.2% | 79 |
| 464 | LearnDash Analytics | 408 | 333 | ▲ 22.5% | 75 |
| 465 | Password Manager | 406 | 349 | ▲ 16.3% | 57 |
| 466 | KISS Email Merge | 405 | 355 | ▲ 14.1% | 50 |
| 467 | ByteScout Lines Sorter & Cleaner | 403 | 337 | ▲ 19.6% | 66 |
| 468 | IMPORTFROMWEB: Import from any website FREE | 400 | 0 | | 400 |
| 469 | MobilityStream Jira Integration | 399 | 363 | ▲ 9.9% | 36 |
| 470 | Crypto Utils | 399 | 398 | ▲ 0.3% | 1 |
| 471 | Edit o Matic | 397 | 355 | ▲ 11.8% | 42 |
| 472 | Linkedin Leads | 395 | 230 | ▲ 71.7% | 165 |
| 473 | Poobah Crypto Scanner | 390 | 258 | ▲ 51.2% | 132 |
| 474 | Fantasy Football Stat Stud | 390 | 395 | ▼ -1.3% | -5 |
| 475 | ImExClass | 389 | 344 | ▲ 13.1% | 45 |
| 476 | OCL Inventory Tools | 384 | 288 | ▲ 33.3% | 96 |
| 477 | SRV Calculator | 382 | 351 | ▲ 8.8% | 31 |
| 478 | PreferenceSorter | 376 | 378 | ▼ -0.5% | -2 |
| 479 | Bjorn's Label Studio | 374 | 11 | ▲ 3300.0% | 363 |
| 480 | Teamwork Projects | 370 | 274 | ▲ 35.0% | 96 |
| 481 | Inventory Express | 368 | 293 | ▲ 25.6% | 75 |
| 482 | BOUTIR Order Table | 366 | 263 | ▲ 39.2% | 103 |
| 483 | Reports4Hangouts | 365 | 373 | ▼ -2.1% | -8 |
| 484 | Mandarin Cantonese Tools | 364 | 0 | | 364 |
| 485 | arrayThis | 359 | 307 | ▲ 16.9% | 52 |
| 486 | Quadstick | 353 | 310 | ▲ 13.9% | 43 |
| 487 | DS Trix Addon | 351 | 250 | ▲ 40.4% | 101 |
| 488 | Deepl for Google Sheets | 351 | 182 | ▲ 92.9% | 169 |
| 489 | Side Study Teacher Report | 349 | 317 | ▲ 10.1% | 32 |
| 490 | Anyleads API | 349 | 348 | ▲ 0.3% | 1 |
| 491 | JAG Tables | 340 | 297 | ▲ 14.5% | 43 |
| 492 | Classroom Manager | 339 | 267 | ▲ 27.0% | 72 |
| 493 | Sheets to Slides | 338 | 314 | ▲ 7.6% | 24 |
| 494 | Save as SCSV | 333 | 328 | ▲ 1.5% | 5 |
| 495 | Domo | 331 | 285 | ▲ 16.1% | 46 |
| 496 | TBA Requests | 329 | 266 | ▲ 23.7% | 63 |
| 497 | Sorc'd for Sheets | 327 | 308 | ▲ 6.2% | 19 |
| 498 | FCCTrak | 327 | 320 | ▲ 2.2% | 7 |
| 499 | MyClassRoom – Collect | 325 | 325 | ▲ 0.0% | 0 |
| 500 | Walmart Product Lookup | 321 | 327 | ▼ -1.8% | -6 |
| 501 | RowClassify 1.0 | 321 | 309 | ▲ 3.9% | 12 |
| 502 | Brazilian ZIP Code – CEP | 319 | 287 | ▲ 11.1% | 32 |
| 503 | Webulous | 318 | 307 | ▲ 3.6% | 11 |
| 504 | FinSheets for Stripe & PayPal | 314 | 251 | ▲ 25.1% | 63 |
| 505 | Historic Alpha | 309 | 297 | ▲ 4.0% | 12 |
| 506 | Visor de Registros | 308 | 237 | ▲ 30.0% | 71 |
| 507 | gTripTracker | 307 | 299 | ▲ 2.7% | 8 |
| 508 | Row Based Log | 306 | 273 | ▲ 12.1% | 33 |
| 509 | Funnel 1.0 | 304 | 312 | ▼ -2.6% | -8 |
| 510 | Fit sync | 302 | 256 | ▲ 18.0% | 46 |
| 511 | Oriole Sheets To Calendar | 296 | 229 | ▲ 29.3% | 67 |
| 512 | StratosMedia Export Tool | 295 | 288 | ▲ 2.4% | 7 |
| 513 | Ranges | 289 | 283 | ▲ 2.1% | 6 |
| 514 | ESPN Fantasy Football Rankings & ADP | 287 | 288 | ▼ -0.3% | -1 |
| 515 | TableQuiz | 286 | 258 | ▲ 10.9% | 28 |
| 516 | DropSpread | 285 | 259 | ▲ 10.0% | 26 |
| 517 | Patternchain | 284 | 276 | ▲ 2.9% | 8 |
| 518 | Warmgun | 281 | 279 | ▲ 0.7% | 2 |
| 519 | Employee Onboarding App | 279 | 226 | ▲ 23.5% | 53 |
| 520 | PreAngel Captable Manager | 279 | 282 | ▼ -1.1% | -3 |
| 521 | 獨孤九劍複習工具 | 277 | 269 | ▲ 3.0% | 8 |
| 522 | Indented Hierarchy | 274 | 239 | ▲ 14.6% | 35 |
| 523 | Puzzle Tools | 271 | 262 | ▲ 3.4% | 9 |
| 524 | FormGun | 268 | 239 | ▲ 12.1% | 29 |
| 525 | Tabify | 267 | 211 | ▲ 26.5% | 56 |
| 526 | Twitter Puller | 263 | 261 | ▲ 0.8% | 2 |
| 527 | MergeThisEmail | 260 | 247 | ▲ 5.3% | 13 |
| 528 | SplitExpense | 259 | 214 | ▲ 21.0% | 45 |
| 529 | World Bank Data Explorer | 259 | 250 | ▲ 3.6% | 9 |
| 530 | iAuditor | 259 | 263 | ▼ -1.5% | -4 |
| 531 | Rapid MailMerge | 255 | 157 | ▲ 62.4% | 98 |
| 532 | Bizstream's SheetHelper | 254 | 253 | ▲ 0.4% | 1 |
| 533 | CSE Search | 253 | 195 | ▲ 29.7% | 58 |
| 534 | Jivrus' Integra for Twitter | 252 | 241 | ▲ 4.6% | 11 |
| 535 | Ⓣ Text Analytics | text2data.com | 251 | 25 | ▲ 904.0% | 226 |
| 536 | FAX.PLUS – Fax your document | 251 | 204 | ▲ 23.0% | 47 |
| 537 | Bjorn's Barcode Studio | 250 | 7 | ▲ 3471.4% | 243 |
| 538 | dlbTools | 245 | 246 | ▼ -0.4% | -1 |
| 539 | Bjorn's Word Clouds | 244 | 3 | ▲ 8033.3% | 241 |
| 540 | Toky Dialpad | 243 | 148 | ▲ 64.2% | 95 |
| 541 | Spotlight | 240 | 175 | ▲ 37.1% | 65 |
| 542 | Fedger.io Sheets | 237 | 236 | ▲ 0.4% | 1 |
| 543 | Birthday Reminders | 234 | 242 | ▼ -3.3% | -8 |
| 544 | KANO for CX | 233 | 199 | ▲ 17.1% | 34 |
| 545 | Peer-Grading Tool | 229 | 186 | ▲ 23.1% | 43 |
| 546 | Interpolation | 229 | 146 | ▲ 56.8% | 83 |
| 547 | Sheets For YNAB | 228 | 130 | ▲ 75.4% | 98 |
| 548 | Get List of Videos In YouTube Channel | 222 | 225 | ▼ -1.3% | -3 |
| 549 | Sheet to Contacts | 221 | 107 | ▲ 106.5% | 114 |
| 550 | Auto Account | 218 | 216 | ▲ 0.9% | 2 |
| 551 | getemail.io | 217 | 216 | ▲ 0.5% | 1 |
| 552 | DataRelate: Get data direct to sheets | 216 | 179 | ▲ 20.7% | 37 |
| 553 | IDesignSpec gSheets | 215 | 215 | ▲ 0.0% | 0 |
| 554 | Simplifai | 212 | 144 | ▲ 47.2% | 68 |
| 555 | Stategize | 207 | 153 | ▲ 35.3% | 54 |
| 556 | Google Address Autocomplete | 194 | 193 | ▲ 0.5% | 1 |
| 557 | Jivrus Integra for Zoho | 192 | 161 | ▲ 19.3% | 31 |
| 558 | DV360 Reports in Sheets | 192 | 119 | ▲ 61.3% | 73 |
| 559 | Magic Classroom Import | 190 | 166 | ▲ 14.5% | 24 |
| 560 | quantrasheets | 190 | 180 | ▲ 5.6% | 10 |
| 561 | Showcases | 190 | 179 | ▲ 6.1% | 11 |
| 562 | Commentary App | 189 | 163 | ▲ 16.0% | 26 |
| 563 | People Hotsheets | 188 | 124 | ▲ 51.6% | 64 |
| 564 | 123RF Stock Photos | 187 | 188 | ▼ -0.5% | -1 |
| 565 | DataPull | 187 | 167 | ▲ 12.0% | 20 |
| 566 | Reports4DMARC | 186 | 191 | ▼ -2.6% | -5 |
| 567 | Sheet Director | 184 | 94 | ▲ 95.7% | 90 |
| 568 | Hoopla Helper | 184 | 181 | ▲ 1.7% | 3 |
| 569 | EasyRequest | 184 | 151 | ▲ 21.9% | 33 |
| 570 | Lees/Luis Maker 2.0 | 180 | 180 | ▲ 0.0% | 0 |
| 571 | GSheetPress Table | 179 | 133 | ▲ 34.6% | 46 |
| 572 | Jotform Data | 178 | 138 | ▲ 29.0% | 40 |
| 573 | Audiographs | 178 | 154 | ▲ 15.6% | 24 |
| 574 | Sheets to Reddit | 176 | 154 | ▲ 14.3% | 22 |
| 575 | Kickback | 175 | 171 | ▲ 2.3% | 4 |
| 576 | GA Parameters Extractor | 175 | 148 | ▲ 18.2% | 27 |
| 577 | sheet2form | 174 | 178 | ▼ -2.2% | -4 |
| 578 | GAMA | 172 | 147 | ▲ 17.0% | 25 |
| 579 | G-Accon for AWS | 171 | 164 | ▲ 4.3% | 7 |
| 580 | Valid Email | 170 | 147 | ▲ 15.6% | 23 |
| 581 | Flaticon for Gsuite (GSpreadsheet) | 169 | 56 | ▲ 201.8% | 113 |
| 582 | SpiraPlan Import/Export Tool | 167 | 151 | ▲ 10.6% | 16 |
| 583 | iTOL annotation editor | 165 | 0 | | 165 |
| 584 | XTM Connect for Google Sheets | 164 | 152 | ▲ 7.9% | 12 |
| 585 | Marketing Reports | 164 | 19 | ▲ 763.2% | 145 |
| 586 | AprPlan: Multi-dimensional Spreadsheets | 163 | 0 | | 163 |
| 587 | Form Response Control | 163 | 86 | ▲ 89.5% | 77 |
| 588 | Instadeq Spreadsheet | 162 | 151 | ▲ 7.3% | 11 |
| 589 | Apility.io Functions | 161 | 132 | ▲ 22.0% | 29 |
| 590 | WP Ultimate CSV Importer Pro Script | 160 | 162 | ▼ -1.2% | -2 |
| 591 | SpreadSheet to GoogleDoc | 159 | 155 | ▲ 2.6% | 4 |
| 592 | Market Intelligence | Dividends | 157 | 110 | ▲ 42.7% | 47 |
| 593 | Retention Ninja | 157 | 128 | ▲ 22.7% | 29 |
| 594 | LittleWorks | 155 | 139 | ▲ 11.5% | 16 |
| 595 | NewsWhip Sheets | 155 | 154 | ▲ 0.6% | 1 |
| 596 | Student Name Import | 154 | 134 | ▲ 14.9% | 20 |
| 597 | BeeBole Timesheet for Google Sheets | 153 | 77 | ▲ 98.7% | 76 |
| 598 | Actionaholic4Slack | 153 | 95 | ▲ 61.1% | 58 |
| 599 | Facebook Profiles Search | 152 | 122 | ▲ 24.6% | 30 |
| 600 | Fiscal Date Functions | 150 | 132 | ▲ 13.6% | 18 |
| 601 | Styles with copy | 150 | 151 | ▼ -0.7% | -1 |
| 602 | Maze Creator | 149 | 149 | ▲ 0.0% | 0 |
| 603 | SpamBot | 147 | 142 | ▲ 3.5% | 5 |
| 604 | SM2 | 142 | 141 | ▲ 0.7% | 1 |
| 605 | Jackal SMS | 141 | 141 | ▲ 0.0% | 0 |
| 606 | Easy Grader Add-on | 141 | 140 | ▲ 0.7% | 1 |
| 607 | XTRF for Sheets | 140 | 114 | ▲ 22.8% | 26 |
| 608 | Budget n Sheets | 140 | 0 | | 140 |
| 609 | Reviso for Google Sheets | 139 | 120 | ▲ 15.8% | 19 |
| 610 | Import Cost Data to Google Analytics | 138 | 108 | ▲ 27.8% | 30 |
| 611 | Drive Examiner | 138 | 141 | ▼ -2.1% | -3 |
| 612 | Missed Call Suite | 137 | 118 | ▲ 16.1% | 19 |
| 613 | Formula Tracer | 135 | 0 | | 135 |
| 614 | Looker API Custom Functions | 135 | 118 | ▲ 14.4% | 17 |
| 615 | Jivrus' Integra for Xero | 134 | 127 | ▲ 5.5% | 7 |
| 616 | Vid ID | 134 | 136 | ▼ -1.5% | -2 |
| 617 | Quickbooks Connect | 133 | 74 | ▲ 79.7% | 59 |
| 618 | GA Bulk View Editor | 133 | 111 | ▲ 19.8% | 22 |
| 619 | Pics.io for Google Spreadsheets | 132 | 61 | ▲ 116.4% | 71 |
| 620 | Survey2Calendar | 131 | 131 | ▲ 0.0% | 0 |
| 621 | Company Name Lookup | 129 | 108 | ▲ 19.4% | 21 |
| 622 | FromCal | 127 | 120 | ▲ 5.8% | 7 |
| 623 | Scribens : correcteur d'orthographe | 127 | 108 | ▲ 17.6% | 19 |
| 624 | Balsamiq Wireframes for Sheets (FREE TRIAL) | 125 | 115 | ▲ 8.7% | 10 |
| 625 | Merge Google Sheet | 124 | 129 | ▼ -3.9% | -5 |
| 626 | Prophet – The Bulk Email Sender! | 124 | 54 | ▲ 129.6% | 70 |
| 627 | Insight Metrix IM Funnel | 124 | 111 | ▲ 11.7% | 13 |
| 628 | Jasmin SMS Messenger | 124 | 124 | ▲ 0.0% | 0 |
| 629 | Spreadsheet2json | 124 | 123 | ▲ 0.8% | 1 |
| 630 | Manager Chromebook | 122 | 70 | ▲ 74.3% | 52 |
| 631 | Twaccess | 120 | 116 | ▲ 3.4% | 4 |
| 632 | Simple Badges | 119 | 115 | ▲ 3.5% | 4 |
| 633 | Floody | 119 | 0 | | 119 |
| 634 | Linkest | 117 | 116 | ▲ 0.9% | 1 |
| 635 | Serpfox Sheets | 114 | 98 | ▲ 16.3% | 16 |
| 636 | Signup sheet | 113 | 113 | ▲ 0.0% | 0 |
| 637 | GSheetPress Quiz | 112 | 76 | ▲ 47.4% | 36 |
| 638 | ATSA – Automated Telephonic Survey App | 111 | 110 | ▲ 0.9% | 1 |
| 639 | Classroom Share | 111 | 86 | ▲ 29.1% | 25 |
| 640 | Related Products and Top Carts [BETA] | 111 | 110 | ▲ 0.9% | 1 |
| 641 | Blink Reports for Xero | 110 | 81 | ▲ 35.8% | 29 |
| 642 | URL Opener | 109 | 53 | ▲ 105.7% | 56 |
| 643 | WonderWallAddon | 109 | 110 | ▼ -0.9% | -1 |
| 644 | GSolutions – Copy Sheet | 107 | 0 | | 107 |
| 645 | TowerData | 107 | 106 | ▲ 0.9% | 1 |
| 646 | Magic Class Tracker | 106 | 99 | ▲ 7.1% | 7 |
| 647 | Travel Spent | 104 | 95 | ▲ 9.5% | 9 |
| 648 | Shape API | 103 | 107 | ▼ -3.7% | -4 |
| 649 | Property Development Feasibility Study | 103 | 82 | ▲ 25.6% | 21 |
| 650 | JUDS Navigator spreadsheet tool | 101 | 94 | ▲ 7.4% | 7 |
| 651 | ACT Contact Import | 100 | 98 | ▲ 2.0% | 2 |
| 652 | eth-price-fetch | 98 | 95 | ▲ 3.2% | 3 |
| 653 | Magic Row Reveal | 98 | 87 | ▲ 12.6% | 11 |
| 654 | Questionnaire Author | 96 | 94 | ▲ 2.1% | 2 |
| 655 | Kanbanize for Sheets | 96 | 0 | | 96 |
| 656 | Mail Merge | 96 | 0 | | 96 |
| 657 | Chromebook Getter | 95 | 0 | | 95 |
| 658 | NepaliDate | 94 | 65 | ▲ 44.6% | 29 |
| 659 | Meraki Tools | 93 | 0 | | 93 |
| 660 | Charts To Email | 93 | 90 | ▲ 3.3% | 3 |
| 661 | Zilla Notify | 93 | 81 | ▲ 14.8% | 12 |
| 662 | Accessibility Sheet (Tab Name, Column Width) | 92 | 96 | ▼ -4.2% | -4 |
| 663 | Scheduler | 91 | 59 | ▲ 54.2% | 32 |
| 664 | Spreadsheet Fund | 91 | 0 | | 91 |
| 665 | Cloud Print Counter | 90 | 85 | ▲ 5.9% | 5 |
| 666 | Mkeka | 90 | 84 | ▲ 7.1% | 6 |
| 667 | Twitter Profiles Search | 90 | 71 | ▲ 26.8% | 19 |
| 668 | Dreamstime Stock Photos | 90 | 76 | ▲ 18.4% | 14 |
| 669 | Workforce Dimensions Reports | 89 | 66 | ▲ 34.8% | 23 |
| 670 | スプレッドシート栄養計算 | 89 | 68 | ▲ 30.9% | 21 |
| 671 | Search Console Advanced | 89 | 91 | ▼ -2.2% | -2 |
| 672 | Fast Google Classroom Blocker | 88 | 85 | ▲ 3.5% | 3 |
| 673 | Get It – Forms | 88 | 0 | | 88 |
| 674 | Webtrends | 85 | 75 | ▲ 13.3% | 10 |
| 675 | CM Reports in Sheets | 84 | 51 | ▲ 64.7% | 33 |
| 676 | GetKPI | 84 | 84 | ▲ 0.0% | 0 |
| 677 | Workforce Dimensions Admin | 83 | 67 | ▲ 23.9% | 16 |
| 678 | gAdmin | 82 | 74 | ▲ 10.8% | 8 |
| 679 | Hesperides | 82 | 83 | ▼ -1.2% | -1 |
| 680 | Attachment Downloader | 82 | 73 | ▲ 12.3% | 9 |
| 681 | Tissue Sample Plate Mapper | 81 | 65 | ▲ 24.6% | 16 |
| 682 | csv Exporter | 80 | 0 | | 80 |
| 683 | Geocode Addresses | 77 | 78 | ▼ -1.3% | -1 |
| 684 | VComply Bridge | 75 | 70 | ▲ 7.1% | 5 |
| 685 | Midas | 75 | 27 | ▲ 177.8% | 48 |
| 686 | WhoKnows Sheets Add-on | 74 | 68 | ▲ 8.8% | 6 |
| 687 | Tax functions BETA | 74 | 47 | ▲ 57.4% | 27 |
| 688 | Links Extractor | 73 | 0 | | 73 |
| 689 | Days in a Month | 73 | 70 | ▲ 4.3% | 3 |
| 690 | Test-coinmarketcap-Script | 73 | 72 | ▲ 1.4% | 1 |
| 691 | BadgerPD | 72 | 45 | ▲ 60.0% | 27 |
| 692 | Huddle | 72 | 66 | ▲ 9.1% | 6 |
| 693 | Delete blank sheet range | 72 | 0 | | 72 |
| 694 | Http Status Code Fetcher | 72 | 65 | ▲ 10.8% | 7 |
| 695 | Drive Insights | 71 | 48 | ▲ 47.9% | 23 |
| 696 | swap | 70 | 65 | ▲ 7.7% | 5 |
| 697 | DriveTrello | 70 | 71 | ▼ -1.4% | -1 |
| 698 | Rubrify | 70 | 0 | | 70 |
| 699 | StaqSpreadsheetUpload | 70 | 62 | ▲ 12.9% | 8 |
| 700 | Revised | 70 | 71 | ▼ -1.4% | -1 |
| 701 | xSuite by xSoTec | 69 | 0 | | 69 |
| 702 | StartDeck Tables | 69 | 37 | ▲ 86.5% | 32 |
| 703 | GSheetPress Calculator | 68 | 40 | ▲ 70.0% | 28 |
| 704 | Carnet de suivi DII Polytech | 68 | 60 | ▲ 13.3% | 8 |
| 705 | ShopSheet | 67 | 30 | ▲ 123.3% | 37 |
| 706 | Simple Sync for Salesforce | 67 | 48 | ▲ 39.6% | 19 |
| 707 | Crisis Event Extraction Service (CREES) | 67 | 61 | ▲ 9.8% | 6 |
| 708 | FinanceSheets Score-meter | 67 | 47 | ▲ 42.6% | 20 |
| 709 | Analytics Aggregator | 67 | 34 | ▲ 97.1% | 33 |
| 710 | Open Links | 67 | 67 | ▲ 0.0% | 0 |
| 711 | StratOptions | 67 | 66 | ▲ 1.5% | 1 |
| 712 | GA MP Tools | 67 | 68 | ▼ -1.5% | -1 |
| 713 | HelixSuite | 66 | 65 | ▲ 1.5% | 1 |
| 714 | NS Lookup | 66 | 53 | ▲ 24.5% | 13 |
| 715 | GSheetPress Shop | 65 | 46 | ▲ 41.3% | 19 |
| 716 | Maps4News Live Data | 65 | 61 | ▲ 6.6% | 4 |
| 717 | Calcolo IRPEF | 65 | 63 | ▲ 3.2% | 2 |
| 718 | Domain Checker for G Suite | 63 | 44 | ▲ 43.2% | 19 |
| 719 | AppBox | 62 | 59 | ▲ 5.1% | 3 |
| 720 | GSheetPress SaaS | 61 | 45 | ▲ 35.6% | 16 |
| 721 | NEO-SHARE | 61 | 59 | ▲ 3.4% | 2 |
| 722 | Gabe's Function Pack | 61 | 40 | ▲ 52.5% | 21 |
| 723 | Realvolve Reporting | 60 | 0 | | 60 |
| 724 | Kaleyra SMS | 60 | 48 | ▲ 25.0% | 12 |
| 725 | TestRailSheets | 59 | 54 | ▲ 9.3% | 5 |
| 726 | Classr for Sheets | 59 | 51 | ▲ 15.7% | 8 |
| 727 | Meta Descriptions Writer | 59 | 0 | | 59 |
| 728 | Banzeh Respostas por Email | 59 | 58 | ▲ 1.7% | 1 |
| 729 | SANsheets | 59 | 0 | | 59 |
| 730 | Bluesofts AccHelper | 58 | 30 | ▲ 93.3% | 28 |
| 731 | EmailOn | 58 | 55 | ▲ 5.5% | 3 |
| 732 | WST-Tool-Functions | 57 | 50 | ▲ 14.0% | 7 |
| 733 | Read Up (Learn New Languages) | 57 | 56 | ▲ 1.8% | 1 |
| 734 | GA Unsampled Data | 57 | 57 | ▲ 0.0% | 0 |
| 735 | TAP Sheet | 56 | 55 | ▲ 1.8% | 1 |
| 736 | Genderize Names | 55 | 18 | ▲ 205.6% | 37 |
| 737 | Hotdocs Computation Generator | 55 | 54 | ▲ 1.9% | 1 |
| 738 | Get _Image_Url_from_AppSheet_Filename | 55 | 50 | ▲ 10.0% | 5 |
| 739 | Transfer4Owners | 53 | 53 | ▲ 0.0% | 0 |
| 740 | StringOperation | 53 | 52 | ▲ 1.9% | 1 |
| 741 | G-Accon for QuickBooks | 50 | 10 | ▲ 400.0% | 40 |
| 742 | Finfox Addon | 50 | 44 | ▲ 13.6% | 6 |
| 743 | LocalFinance | 49 | 41 | ▲ 19.5% | 8 |
| 744 | Apps Search Suggestions | 49 | 47 | ▲ 4.3% | 2 |
| 745 | GSuite Domain Checker | 49 | 47 | ▲ 4.3% | 2 |
| 746 | Sheetlabs for Google Sheets | 48 | 49 | ▼ -2.0% | -1 |
| 747 | Merge Data with Calendar | 47 | 48 | ▼ -2.1% | -1 |
| 748 | DiceRoller | 47 | 39 | ▲ 20.5% | 8 |
| 749 | Mail Merge SMTP | 44 | 0 | | 44 |
| 750 | MarketXLS | 44 | 0 | | 44 |
| 751 | Track Start List Generator | 43 | 41 | ▲ 4.9% | 2 |
| 752 | Amplitude – Export to Sheets | 43 | 0 | | 43 |
| 753 | Huddle for US Gov & Healthcare | 43 | 41 | ▲ 4.9% | 2 |
| 754 | GSheetPress All | 42 | 34 | ▲ 23.5% | 8 |
| 755 | Drawing list | 42 | 42 | ▲ 0.0% | 0 |
| 756 | OAC Essbase by Casabase | 41 | 0 | | 41 |
| 757 | Close.io for Sheets | 40 | 40 | ▲ 0.0% | 0 |
| 758 | Naavi Group Sync | 40 | 31 | ▲ 29.0% | 9 |
| 759 | StarBottle – Amazon Seller Suite | 40 | 0 | | 40 |
| 760 | Bjorn's Super-SORT | 39 | 0 | | 39 |
| 761 | GSheetPress Survey | 39 | 29 | ▲ 34.5% | 10 |
| 762 | ReceiptSheet | 38 | 26 | ▲ 46.2% | 12 |
| 763 | Spreadsheet2qif | 38 | 35 | ▲ 8.6% | 3 |
| 764 | Fulfil.IO | 37 | 37 | ▲ 0.0% | 0 |
| 765 | Marketing Analytics Automata | 37 | 32 | ▲ 15.6% | 5 |
| 766 | Empirical Data Platform Integration | 37 | 36 | ▲ 2.8% | 1 |
| 767 | Chargify Sheets | 36 | 35 | ▲ 2.9% | 1 |
| 768 | Flowtocol | 36 | 37 | ▼ -2.7% | -1 |
| 769 | Kit19 Email Parser | 36 | 35 | ▲ 2.9% | 1 |
| 770 | Mastrino | 36 | 36 | ▲ 0.0% | 0 |
| 771 | MadKudu Sheets | 35 | 0 | | 35 |
| 772 | Monitoring User Sharing Permission | 35 | 34 | ▲ 2.9% | 1 |
| 773 | New Relic Insights | 35 | 35 | ▲ 0.0% | 0 |
| 774 | aPLM: Product Lifecycle Management | 34 | 29 | ▲ 17.2% | 5 |
| 775 | XING TicketingManager | 34 | 29 | ▲ 17.2% | 5 |
| 776 | Ultradox Trigger (EU) | 33 | 19 | ▲ 73.7% | 14 |
| 777 | GSheet To WooCommerce | 33 | 12 | ▲ 175.0% | 21 |
| 778 | B-Right | 32 | 17 | ▲ 88.2% | 15 |
| 779 | Save URL to Drive – small files only | 30 | 17 | ▲ 76.5% | 13 |
| 780 | Show Parent Folders | 30 | 30 | ▲ 0.0% | 0 |
| 781 | Dividend Data | 30 | 0 | | 30 |
| 782 | Noisy Sheets | 30 | 27 | ▲ 11.1% | 3 |
| 783 | Gorilla Sheets for Agency | 30 | 7 | ▲ 328.6% | 23 |
| 784 | Prexcel | 30 | 14 | ▲ 114.3% | 16 |
| 785 | Oorden | 30 | 27 | ▲ 11.1% | 3 |
| 786 | Inbound IVR (Virtual EPABX) | 29 | 26 | ▲ 11.5% | 3 |
| 787 | Icondrop | 29 | 0 | | 29 |
| 788 | Re-survey Columns D & E | 28 | 29 | ▼ -3.4% | -1 |
| 789 | MerakiBlocki | 27 | 15 | ▲ 80.0% | 12 |
| 790 | Blogloom | 27 | 22 | ▲ 22.7% | 5 |
| 791 | Mass Mail Merge PDF & MS Word for Sheets | 27 | 0 | | 27 |
| 792 | Docso | 27 | 8 | ▲ 237.5% | 19 |
| 793 | OptionsWhatIf | 26 | 0 | | 26 |
| 794 | Candidlab | 26 | 26 | ▲ 0.0% | 0 |
| 795 | Score Runoff Vote | 25 | 26 | ▼ -3.8% | -1 |
| 796 | Social Share Counter | 25 | 9 | ▲ 177.8% | 16 |
| 797 | Kaleyra Voice : OBD | 25 | 22 | ▲ 13.6% | 3 |
| 798 | EINstein: Look Up Non-Profit Tax Data by EIN | 24 | 22 | ▲ 9.1% | 2 |
| 799 | Stella Connect | 24 | 5 | ▲ 380.0% | 19 |
| 800 | Jivrus' Integra for FreshBooks | 24 | 22 | ▲ 9.1% | 2 |
| 801 | Reply-to-sheet | 24 | 22 | ▲ 9.1% | 2 |
| 802 | Cloudstitch | 23 | 20 | ▲ 15.0% | 3 |
| 803 | NBRB Rates | 23 | 21 | ▲ 9.5% | 2 |
| 804 | DBMS Quiz Generator | 22 | 22 | ▲ 0.0% | 0 |
| 805 | kit19 campaign public | 21 | 20 | ▲ 5.0% | 1 |
| 806 | Quizify Sheets | 20 | 0 | | 20 |
| 807 | PECal | 20 | 16 | ▲ 25.0% | 4 |
| 808 | AirBooks E-Tickets Forwarder | 20 | 20 | ▲ 0.0% | 0 |
| 809 | Masternaut Connect API | 19 | 19 | ▲ 0.0% | 0 |
| 810 | sendMailAdd-on | 19 | 19 | ▲ 0.0% | 0 |
| 811 | Milestones – Motor Delays | 19 | 19 | ▲ 0.0% | 0 |
| 812 | Cabnetlink | 17 | 14 | ▲ 21.4% | 3 |
| 813 | Fonksiyonlarım | 17 | 17 | ▲ 0.0% | 0 |
| 814 | PhoneAreaCode | 17 | 16 | ▲ 6.3% | 1 |
| 815 | Sitereader | 17 | 0 | | 17 |
| 816 | Sharing Link Converter | 16 | 7 | ▲ 128.6% | 9 |
| 817 | Scout Automation | 16 | 17 | ▼ -5.9% | -1 |
| 818 | Milestones – Developmental Delay | 16 | 16 | ▲ 0.0% | 0 |
| 819 | CryptoCompareMinApi | 16 | 16 | ▲ 0.0% | 0 |
| 820 | Social Sheet | 16 | 5 | ▲ 220.0% | 11 |
| 821 | FOSS Stat Crawler | 15 | 13 | ▲ 15.4% | 2 |
| 822 | FlockSheet | 15 | 0 | | 15 |
| 823 | RowingBrasil Functions | 15 | 14 | ▲ 7.1% | 1 |
| 824 | Morningstar | 15 | 0 | | 15 |
| 825 | Milestones – Traumatic Brain Injury | 15 | 14 | ▲ 7.1% | 1 |
| 826 | Tokenstats | 15 | 14 | ▲ 7.1% | 1 |
| 827 | Easymanage | 14 | 0 | | 14 |
| 828 | QSearch Trend for Spreadsheet | 14 | 11 | ▲ 27.3% | 3 |
| 829 | QuickMirror | 13 | 11 | ▲ 18.2% | 2 |
| 830 | Bjorn's PPC-studio | 13 | 0 | | 13 |
| 831 | TimeCode-MagiKs | 13 | 0 | | 13 |
| 832 | Member Bio Import | 13 | 13 | ▲ 0.0% | 0 |
| 833 | hidesheet | 13 | 13 | ▲ 0.0% | 0 |
| 834 | MAGE Static Data Manager | 12 | 12 | ▲ 0.0% | 0 |
| 835 | Bjorn's Styles Studio | 12 | 0 | | 12 |
| 836 | GOWIZYOU Toolbox | 12 | 11 | ▲ 9.1% | 1 |
| 837 | Clear unnecessary rows and columns | 12 | 11 | ▲ 9.1% | 1 |
| 838 | Roster Author | 12 | 12 | ▲ 0.0% | |
| 839 | Serpstat Batch Analysis | 11 | 0 | | |
| 840 | STACKARRAY: Stack all columns into one | 11 | 0 | | |
| 841 | Class Schedule Optimizer | 11 | 13 | ▼ -15.4% | |
| 842 | Hasler Race Sheets | 11 | 7 | ▲ 57.1% | |
| 843 | Inboxology | 11 | 9 | ▲ 22.2% | |
| 844 | Bulk Resource Calendar Creator for G Suite | 11 | 11 | ▲ 0.0% | |
| 845 | Flickr Exporter | 11 | 8 | ▲ 37.5% | |
| 846 | MatchMarc | 11 | 0 | | |
| 847 | Bjorn's Deck Factory | 11 | 0 | | |
| 848 | Main-exeo-addon2 | 11 | 11 | ▲ 0.0% | |
| 849 | SlickCRM | 10 | 9 | ▲ 11.1% | |
| 850 | Case Studies Extractor | 10 | 9 | ▲ 11.1% | |
| 851 | Addlines | 10 | 9 | ▲ 11.1% | |
| 852 | ezMail Signature add-on | 9 | 0 | | |
| 853 | Forward To The Next | 9 | 9 | ▲ 0.0% | |
| 854 | Ganipara Satış Raporu | 9 | 9 | ▲ 0.0% | |
| 855 | Find and Highlight | 9 | 0 | | |
| 856 | Milestones – Tactile | 9 | 9 | ▲ 0.0% | |
| 857 | Gitlab Issues to Google Sheets | 8 | 0 | | |
| 858 | Blockchain For Sheet | 8 | 0 | | |
| 859 | Sync Google Sheet and amoCRM | 8 | 0 | | |
| 860 | Translate | 7 | 0 | | |
| 861 | Mail Merge Generator | 7 | 5 | ▲ 40.0% | |
| 862 | Cloud Meeting Minutes | 7 | 7 | ▲ 0.0% | |
| 863 | sarf-test | 6 | 6 | ▲ 0.0% | |
| 864 | Housing Society | 6 | 0 | | |
| 865 | Campaign Monitoring Tool for Gmail | 6 | 0 | | |
| 866 | JLRF 1 | 6 | 4 | ▲ 50.0% | |
| 867 | Contacts2QRCode | 6 | 427 | ▼ -98.6% | |
| 868 | docuvita Archive | 6 | 1 | ▲ 500.0% | |
| 869 | Timeline Script | 6 | 6 | ▲ 0.0% | |
| 870 | Cheatsheet | 6 | 0 | | |
| 871 | Lead Kahuna to Quickmail | 6 | 6 | ▲ 0.0% | |
| 872 | Powrbot | 5 | 0 | | |
| 873 | Export to INI | 5 | 5 | ▲ 0.0% | |
| 874 | STORERANGE() Store a range in one cell | 4 | 0 | | |
| 875 | Validate | 4 | 0 | | |
| 876 | MyNextHire | 4 | 4 | ▲ 0.0% | |
| 877 | modelingTools | 3 | 0 | | |
| 878 | Brandfolder for Sheets | 3 | 3 | ▲ 0.0% | |
| 879 | App Localizer | 3 | 0 | | |
| 880 | Future Dividend Events | 3 | 0 | | |
| 881 | 魔獸集中營裝備填寫專用外掛,點右上角免費安裝 | 3 | 2 | ▲ 50.0% | |
| 882 | RexGS | 3 | 0 | | |
| 883 | sheet2textile | 3 | 0 | | |
| 884 | ORDENES DE SERVICIO | 3 | 3 | ▲ 0.0% | |
| 885 | Email All in One | 3 | 0 | | |
| 886 | Ruler Analytics Revenue | 3 | 0 | | |
| 887 | Linkedin Portfolio Website | 2 | 0 | | |
| 888 | Meeting Randomizer | 2 | 0 | | |
| 889 | LETTRIA | 2 | 0 | | |
| 890 | marking rubric checking | 2 | 0 | | |
| 891 | Collatz sequence generator | 2 | 0 | | |
| 892 | Grand Shooting | 2 | 0 | | |
| 893 | Phan Utils – Lịch Việt, Mailmerge, Pic 2 text | 2 | 0 | | |
| 894 | European DataSet | 1 | 0 | | |
| 895 | MarTools Consolidator | 1 | 0 | | |
| 896 | AWS Pricing | 1 | 0 | | |
| 897 | Phone Validation | 1 | 0 | | |
| 898 | Messari | 1 | 0 | | |
| 899 | Bonus | 1 | 0 | | |
| 900 | (QB)² – Question Bank Quick Builder | 0 | 0 | | |
| 901 | googleSheetTranslator | 0 | 0 | | |
| 902 | Sheet Shifter | 0 | 0 | | |
| 903 | tasklines | 0 | 0 | | |
| 904 | Projeto AddOn V1 | 0 | 0 | | |