API Connector for Google Sheets
Import data directly to your spreadsheet
⚡Trusted by over a million users
⚡ Free, with paid upgrade available for advanced features
⚡ Designed for spreadsheet users, no coding required
⚡ Built-in library filled with hundreds of ready-to-use APIs
Serving 1 million professionals at these great organizations & many more:










I use API Connector to create automated monitoring tools for SEO. It opens a universe of possibilities with a very limited and efficient toolchain. API Connector is reliable, glitch-free, and production-ready.
⭐⭐⭐⭐⭐
EVGENIY ORLOV
SEO Team Lead, Mediaworx
API Connector is an amazing product that enables a non-coder to leverage the power of APIs and integrate seamlessly with Google Sheets. It opens up a great deal of opportunities without the need to invest in expensive BI or ETL tools.
API Connector is the easiest and fastest way to create an API-based website on WordPress. By pairing it with WP All Import to import the data, I launched a course discovery platform with no coding needed.
⭐⭐⭐⭐⭐
ADRIAN NUTIU
Founder, MadBright
API Connector is awesome. It allows us to integrate and automate Shopify, Xero, Facebook, Cin7 and so much more.
⭐⭐⭐⭐⭐
BEN MULLER
Founder, Dock & Bay
We are using API Connector for a variety of reports, mainly with Shopify. The documentation and examples on the Mixed Analytics website are extremely helpful. Highly recommended for anyone who wants to automate reporting.
⭐⭐⭐⭐⭐
SIMON KÖSTLER
Co-Founder, STUR Cookware
API Connector allows us to compile data from all of our marketing channels into a single location effortlessly. The documentation is very clear and Ana provides extremely good customer support.
⭐⭐⭐⭐⭐
BRANDON WILKES
Digital Marketing Manager, The Big Phone Store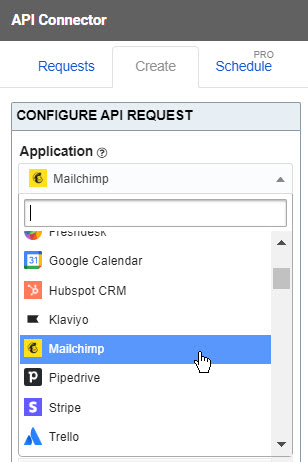 100+ integrated applications
Start quickly with a built-in directory of popular and useful applications.
More info >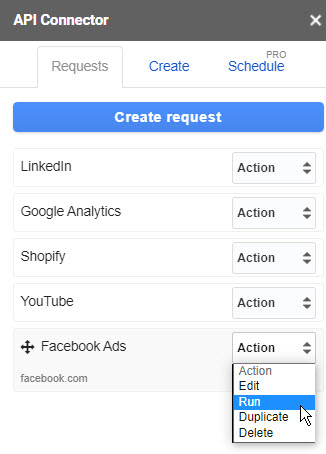 Combine metrics
Easily view and manage data from multiple data sources in a single place. No manual exports, custom scripts, or expensive data warehouse required.
Schedule requests
Automate your reporting. Set triggers to pull from APIs at hourly, daily, weekly, or monthly intervals. More info >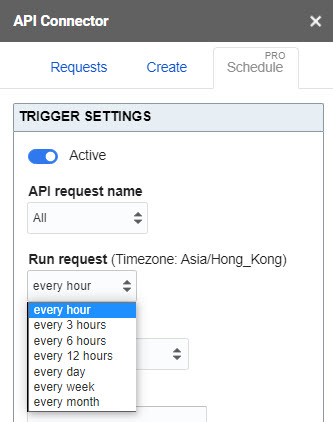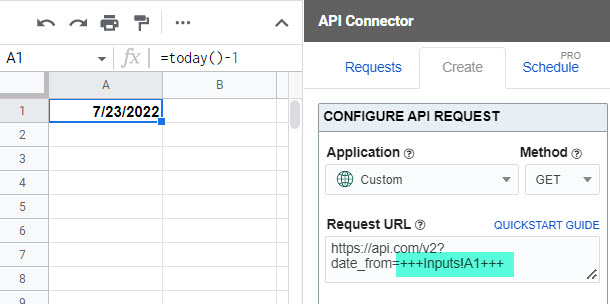 Use cell values in requests
Turn spreadsheet cells into variables. Achieve dynamic, code-like capabilities by basing request URLs on the cells in your sheet.
More info >
Connect to (almost) anything
Pulls data into Google Sheets from any platform that uses API keys or OAuth2 for authorization and returns data in JSON, XML, or CSV format. This opens up access to nearly any platform, e.g. Binance, CoinMarketCap, Facebook, Shopify, etc.
Spreadsheets made simple
Made specifically for reporting and spreadsheets. Includes spreadsheets-first features like append vs. overwrite modes and building API requests based on the value in a cell. Use the built-in API directory for even faster setup.
Free and premium plans
The free version of API Connector includes 250 monthly API requests and many powerful features for working with APIs. The paid plans allow more requests, scheduling, pagination handling, and more. Please view the pricing page for details.