Build a Weather Widget on a Website
Spreadsheets are perhaps the ultimate no-code tool, with an easy-to-use user interface familiar to just about everyone and the flexibility to extend far beyond reporting. This tutorial shows how to build a live weather widget on your website, using API Connector for Sheets to pull in data from the Open Weather Map API and the Sheet2api service to turn your sheet into an API. The results look like this: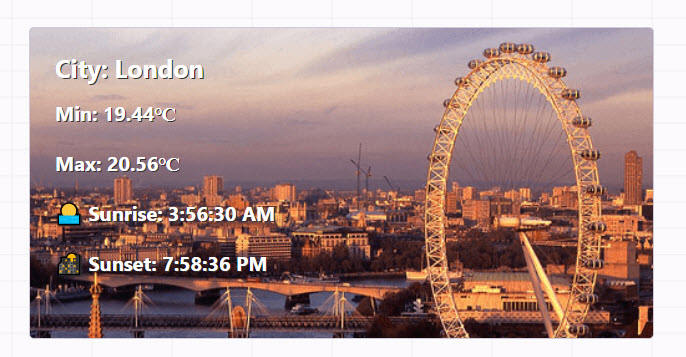 Step 1: Follow this tutorial to get OpenWeatherMap API data into your Google Sheet: Import OpenWeatherMap Data to Google Sheets
Step 2: Paste the link from that spreadsheet into the form at https://sheet2api.com/account/create_spreadsheet (you'll need to create an account first).
Step 3: Create a new webpage linking to your API, containing the content provided here. Replace with the URL to your spreadsheet API.
Step 4: Save the file and open it up in your web browser. That's it! Every time you refresh your API request from the OpenWeatherMap API, the webpage will be automatically updated as well.
Check the Sheet2API site for an extended tutorial: https://sheet2api.com/website-weather-widget-with-google-sheet/